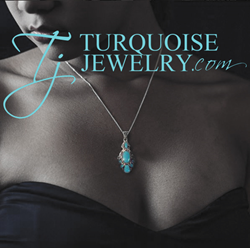 To spot real turquoise, you need to look at the color, the matrix, and the information that's provided by the dealer.
(PRWEB) July 28, 2017
The team at TurquoiseJewelry.com, one of the largest turquoise jewelry stores online is here to point out the distinctions between the different types of turquoise and what people need to look out for. The spokesman for TurquoiseJewelry.com, Jack Birch, has laid out the different terms used throughout the industry and what they mean.
The Different Types of Turquoise
The term "genuine" turquoise means that it came directly from the ground. This is not the turquoise that most reputable stores sell. It might sound ideal; however, turquoise that hasn't been treated is soft and brittle.
"Stabilized" turquoise is turquoise that has been chemically treated to enhance color and durability. Sold by the top retailers, this type of turquoise is what people want to buy from stores like Kay and Tiffany's.
Reconstituted turquoise isn't considered "genuine." This turquoise is made from crushing turquoise into a powder, adding new elements and materials to it, then reconstituting it back together. This is one of the cheapest and least like turquoise on the market.
A popular method of faking turquoise jewelry is using cheaper stones (usually howlite) that closely resemble turquoise's texture and then adding the blue or green colors with various chemicals.
Real Turquoise
Birch adds, "To spot real turquoise, you need to look at the color, the matrix, and the information that's provided by the dealer."
The color of turquoise is hard to get just right. We recommend searching for pictures of high quality turquoise and comparing it with what you're being offered. You'll be able to tell right away that something is off. A reputable dealer will also tell people what type of turquoise they're offering, Sleeping Beauty, Kingman, #8, Ray Jack, Buffalo, and people can search the types from there.
The matrix is another important element to consider. The matrix is the term used to refer to the veins running through the turquoise stones. This happens during the formation of the stone, when water carrying different mineral deposits runs through stone, forming the turquoise found all over the world.
Next, people should take a look at the formation. The most famous mines produce unique turquoise with interesting colorations and patterns. These will be more expensive. If someone is claiming to sell Kingman turquoise, that is easily searched as well.
TurquoiseJewelry.com partners with Native American and Southwestern artists to bring quality turquoise jewelry to the market. Those interested in learning more or those that want to buy quality turquoise pieces can visit their site.