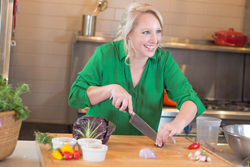 "What we came up with connects the Port City to the Port of New Orleans." Chef Amy Sins
New Orleans, LA (PRWEB) July 20, 2017
Langlois chef Amy Sins takes her culinary show on the road to Shreveport August 9 and August 10 for a collaborative feast with chef Blake Jackson of Drake Catering. Limited to 20 guests at each seating, the field-to-table menu blends Sins' familiar patois of Louisiana flavors and culinary adventure with Asian influences courtesy of Jackson. Chefs Sins and Jackson will take guests on a journey that traverses cuisines delivered to Louisiana via the Port of New Orleans, with a focus on Vietnamese and Filipino ingredients and techniques. The dinners start at 6:30 p.m. and include six courses, wine tastings, a mini hands-on cooking activity (fun with crepes!) and discussion with the chefs.
"This dinner is a true collaboration. Blake and I spent hours and hours geeking out about ingredients and ways to connect his style of food and cooking, which highlights Asian cuisine, and my style, which is all about familiar Louisiana dishes and ingredients," Sins said about working side-by-side with Jackson, a Shreveport native. "What we came up with connects the Port City to the Port of New Orleans." Sins, chef/owner of Langlois in New Orleans, notes the collaboration is the result of recent trips to Shreveport. "My husband is getting involved with the business community in Shreveport which has created a great opportunity to spend more time here," she said. "A friend introduced me to Blake and there was an instant connection."
Jackson, whose private event and catering operation combines a life-long love of food and an easygoing flair for hospitality, was immediately drawn to Sins' approach. "I knew as soon as I met Amy—we were on the same wavelength about how we approach food and life, in general," he said. "As in: full speed, always looking for the adventure."
For more information and to buy tickets, visit https://www.chefamy.com/shop
Who: Chef Amy Sins and Chef Blake Jackson
What: Guests will enjoy a six-course menu with wine tastings and interactive cooking demonstration
Where: 724 Azalea Dr., Shreveport, LA 71106
When: August 9 and 10, 2017, 6:30-9:30 p.m.
Menu
House Pickles, Charcuterie & Jams
Crab Fat Calas
Chilled Louisiana Seafood & Watermelon Soup
Braised Short Ribs, Vermicelli, Chanterelles, Fresh Herbs
Rabbit Curry & Hot Water Cornbread
Crispy Crepe, Lemon Curd & Gelato
About Langlois and Chef Amy Sins
Founded by chef Amy Sins in 2012, Langlois (http://www.langloisnola.com) was designed first as an interactive dining/open kitchen restaurant in the Marigny before becoming the traveling culinary entertainment group it is today. Langlois is a tribute to her roots, combining Sins' pure love of dinner party style entertaining and Louisiana culture with authentic New Orleans culinary experiences. A resident of the French Quarter, Sins is the author of author of "Ruby Slippers Cookbook: Life, Culture, Family & Food after Katrina" and the host of "New Orleans by Mouth," a weekly radio program on WRBH 88.3 FM