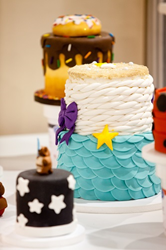 "As crafters and hobbyists enter the world of cake-decorating and become familiar with its extensive capabilities, they quickly realize its creative potential beyond just cake." - Paul McVeigh, Marketing Director, Satin Ice
Elmwood Park, NJ (PRWEB) July 13, 2017
The Association For Creative Industries (AFCI) invites qualifying retailers, designers, professional makers and DIYers, digital content creators, creative entrepreneurs, and media to register for Creativation, the premier trade event and homecoming for the global creative arts products industry. Entering its second year as the Creativation brand, formerly the CHA MEGA Conference & Trade Show, the event will take place January 18-22, 2018 at the Phoenix Convention Center in Phoenix, AZ. The annual affair spotlights education and innovation in arts and crafts, with a focus on edible arts and other emerging product segments in 2018.
Satin Ice has signed on to be the title sponsor of the Edible Arts Shoppe, where celebrity talent will conduct demos, classes, and make-n-take projects on the trade show floor.
"Satin Ice is the perfect partner to educate our industry on edible arts products and crossover products," said Andria LaJeunesse, CEM, Vice President of Events & Education, AFCI. "Last year, Satin Ice's booth was one of the areas that received the most foot-traffic and compliments from attendees, which we anticipate again in 2018."
"Best known for sculptured creations on TV and elegant wedding cakes, cake-decorating is an exciting and explosive market in recent years", said Paul McVeigh, Marketing Director, Satin Ice. "As crafters and hobbyists enter the world of cake-decorating and become familiar with its extensive capabilities, they quickly realize its creative potential beyond just cake. Our partnership with Creativation allows crafters from all backgrounds to have hands-on experience, enhance existing skills or learn new skills from our celebrity artists."
Edible Arts is one of the fastest growing product segments among crafters in the United States. According to AFCI's 2016 Creative Products Size of the Industry Study, edible arts is the second most popular craft with more than 39 million households participating in the past 12 months.
In addition to edible arts, businesses will learn and discover new products, trends and techniques in other evolving product sectors, including painting, drawing, sewing and fabric. They will also connect with their professional peers through several networking events and a two-and-a-half-day trade show.
AFCI Members and media receive complimentary badge access to Creativation. Qualified non-members may purchase a badge to access the event. For more information and to register, visit http://www.CreativationShow.org.
Registration for the Creativation University conference program will open on Tuesday, September 12 at 11am EDT. Creativation University will feature high-quality education and content offered through hands-on workshops and seminars.
Suppliers interested in exhibiting and sponsoring should contact Nadine Schwartz, Director of Sales and Sponsorships, at exhibits(at)afci.global or visit http://www.CreativationShow.org for more information.
ABOUT THE ASSOCIATION FOR CREATIVE INDUSTRIES
The Association For Creative Industries (AFCI) is the premier trade association for the global creative arts products industries. AFCI strives to deliver innovative high value services as we support our Members who provide products and services to educate, entertain, and inspire creative consumers. Our Members include the manufacturers, retailers, distributors, designers, educators, digital content providers, professional makers and DIYers, and other creative professionals that comprise the $40 billion+ creative arts industries around the globe. For more information about AFCI, membership, or its annual Creativation trade event, visit http://www.afci.global.
ABOUT SATIN ICE
Established in 2001 Satin Fine Foods developed the Satin Ice range of products to satisfy the demands of the best cake artists in the industry… a fondant that is premium quality with the greatest workability, consistency and taste. Our company has grown to be a world-leading manufacturer of Satin Ice fondant and gum paste distributing to over 60 countries worldwide – producing both commercial and retail products. Satin Fine Foods is a passionate, innovative manufacturer and highly respected in the international baking and craft industries. Our premium products are used by wholesale bakeries, instore bakeries, pastry chefs, retail bakeries, home bakers & cakers… and endorsed by the greatest cake artists around the world.