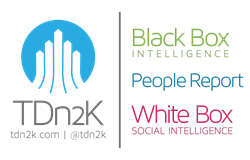 Dallas, Texas (PRWEB) July 14, 2017
It's a "good news, bad news" update for restaurant industry performance this month. Bad news is same-store sales and traffic growth were still negative in June and the second quarter of 2017; and year-over-year, same-store sales have been declining for the last six consecutive quarters. However, the good news is that June results were the best for the industry for both sales and traffic growth since January, and the second quarter of 2017 posted the best results since the second quarter of 2016. These insights come from TDn2K™ data through The Restaurant Industry Snapshot™, based on weekly sales from 28,500+ restaurant units, 155+ brands and represent $67+ billion dollars in annual revenue.
"This is likely the result of a combination of factors," commented Victor Fernandez, Executive Director of Insights and Knowledge for TDn2K. "While economic indicators have been pointing to some improved conditions this year, the reality is that we are also lapping over some weak results in 2016 which make the comparisons much easier for the industry in 2017."
Same-store sales growth was -1.0 percent in June and growth for the second quarter of 2017 was also -1.0 percent. As a comparison, same-store sales growth for the first quarter was -1.6 percent. Same-store traffic fell by -3.0 percent during June. Traffic declined by -3.1 percent for the latest quarter, a significant 0.6 percentage point improvement from first quarter results.
Average guest checks grew at the same rate in the second quarter as in the first. Both periods posted year over year increases of 2.2 percent. In general, check averages have been growing more slowly since 2015. In that year, average checks were up 2.8 percent. The more modest increases are a factor in the continued softness in top-line results.
"Brands seem to be reluctant to implement significant price increases given the current environment. Price promotions have been widely utilized, especially by struggling brands and segments to drive traffic," said Fernandez. "Average guest checks for the 'bar and grill' sub-segment of casual dining remain flat year over year for the first two quarters of 2017, while casual dining overall has seen its guest checks grow by only 1.2 percent."
Economic and Job Growth Accelerate
"Both job and economic growth picked up in the spring, though neither can be classified as robust," according to Joel Naroff, president of Naroff Economic Advisors and TDn2K economist. "The surprisingly large June employment increase was largely due to outsized public sector hiring, which should unwind in the next few months."
"Consumption, meanwhile, has slowed and vehicle sales have faltered. That is good news for other retail sectors, including restaurants, as credit growth is moderating. The rise in debt payments has funneled money from spending on other goods and services. National retail sales data seem to be indicating the outflow from restaurants is ending, but an uptick in demand has yet to appear."
"Nevertheless, the summer season should be solid as people have money to spend. Unfortunately, until wage gains improve, which so far continue to be disappointing, no major acceleration in spending at restaurants should be expected," predicted Naroff.
Fine Dining & Upscale Casual: Best Performance Results
Affluent restaurant consumers continue to respond positively to those brands that provide a more experience-driven dining occasion. Fine dining was the best performing segment based on same-store sales growth in the second quarter, followed by upscale casual. These were the only two segments with positive sales. They were also the top performing segments in the first quarter.
However, even those segments with positive growth in their same-store sales are doing so through increases in average guest checks and not through driving incremental guest visits. All segments experienced a fall in their guest counts year over year during the quarter. The increased competition for dining occasions both from within the industry (independent operators) and from other sectors (grab-and-go prepared food options, meal replacement kits, and other players like convenience stores and food trucks) continue to grab additional share from traditional chain restaurants.
The weakest segments based on second quarter results were fast casual and the 'bar and grill' sub-segment within casual dining.
Quick service, which was the top-performing segment in 2016 and was among the top three segments in 2015, is now struggling to keep up building on that rapid growth. The segment has now experienced three consecutive quarters of negative same-store sales growth.
Increase in Turnover and Staffing Headaches
Restaurant sales may be showing modest signs of improvement, but when it comes to finding enough qualified employees to staff the restaurants and retaining them once they are hired, the industry is still facing an uphill battle. According to TDn2K's People Report™, rolling-12-month restaurant hourly employee turnover increased again in May. Turnover for restaurant managers is also on the rise and is tracking at a 10-year high.
Recent research by People Report shows that staffing challenges are greater for the back-of-the-house (BOH) hourly employee positions compared with their front-of-the-house counterparts. Companies have expressed that turnover rates tend to be higher for their BOH positions. Additionally, these positions tend to take longer to fill and generate fewer job applicants than their front of house openings.
The unemployment rate continues to drop and brands report that the majority of applicants are coming from competing restaurants. The result is pressure on restaurant wages, which are expected to increase in the upcoming quarters. Almost 75 percent of restaurant companies report that they are offering higher wages as an incentive for potential employees.
Also a case of good news, bad news: the restaurant industry continues to create jobs. The latest numbers for the chain restaurant industry show year-over-year growth in net number of jobs at 1.0 percent in May, after 1.9 percent growth reported for April. This reflects an industry that continues expanding and opening locations, but it also adds to the headaches of those in charge of staffing those restaurants.
"The real story is not average performance," cautioned Wallace Doolin, Chairman and Co-Founder of TDn2K. "The sales growth performance gap from the top quartile and the bottom quartile of table service brands has grown to 8.4 percent in the second quarter of 2017. The gap for counter service brands has risen to 10.9 percent. And at the trade area, DMA or country level, we see a widening gap of performance that is driven by more than just the marketing budget and remodels. At every level we see retention of talent, adequate staffing and engaged employees predicting top or bottom quartile performance."
TDn2K™ (Transforming Data into Knowledge) is the parent company of People Report™, Black Box Intelligence™ and White Box Social Intelligence™. People Report provides service-sector human capital and workforce analytics for its members on a monthly basis. Black Box Intelligence provides weekly financial and market level data for the restaurant industry. White Box Social Intelligence delivers consumer insights and reveals online brand health. TDn2K membership represents 41,000 restaurant units, 2.3+ million employees, and $67+ billion in sales. They are also the producers of leading restaurant industry events including the Global Best Practices Conference held annually each January in Dallas, Texas.