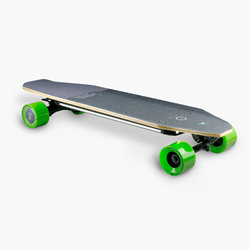 Santa Clara, CA (PRWEB) July 14, 2017
ACTON, the leading designer and manufacturer of advanced, smart and innovative electric skateboards, skates and scooters is proud to announce the launch of its latest electric skateboard the BLINK S2. Savvy students are dreaming of the fun and excitement of being outside with one of ACTON's electric skateboards. Whether it's for adventure or serious commuting, students can find in ACTON's product range the perfect companion.
ACTON made headlines in 2016 when they raised over $1.4 million on the popular crowdfunding service Indiegogo, making the all new BLINK products the most funded electric skateboards in crowdfunding history!
BLINK S2 is ready to hit the streets! This product's key features include:

Dual hub-motor drive
A whooping 14 mile range
20 percent incline rate for your uphill commutes -- with travel speeds upwards to 18 mph
Signature integrated LED lights making cruising at night safe and fun!
The BLINK S2 retails for $999 and is now available online at http://www.actonglobal.com.
The BLINK S2 electric skateboard from ACTON has started shipping to thousands of Indiegogo backers across the globe this month and will be available to ship to general customers in late July.
About ACTON, Inc.
ACTON is the creator and purveyor of lightweight, smart, and fun transportation devices that blend technology and fashion. Its passion for innovative technology and elegant designs makes its products the cutting edge of the electric transportation category.
ACTON products are available in the United States and in over 20 countries worldwide and online at http://www.actonglobal.com.