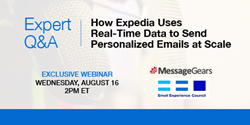 ATLANTA, GA (PRWEB) August 09, 2017
MessageGears will present a complimentary, interview-style webinar with the full-service travel company Expedia.com® on Aug. 16, from 2 p.m. to 3 p.m, hosted by the Email Experience Council. MessageGears CEO Roger Barnette and Expedia Product Manager Madelynn Brown will discuss how the industry leader uses real-time data to personalize its email marketing.
As one of the world's largest full-service travel sites, Expedia.com deals with millions of customers across multiple touchpoints every month. Typically, enterprise companies struggle to create highly personalized email marketing. However, with the help of MessageGears, Expedia has been able to leverage customer data from numerous sources in real time to create emails that are highly targeted.
In this interview-style webinar, Barnette and Brown will discuss:

Effective personalization tactics email marketers can implement before the end of the year
How brands - big and small - can leverage real-time data to provide relevant content that gets delivered to the right person at the right time
What lessons Expedia has learned in their quest to create a seamless end-to-end experience
Reserve your spot today:
https://emailexperience.org/events/eec-webinars/#!event/2017/8/16/expert-q-a-how-expedia-uses-real-time-data-to-send-personalized-emails-at-scale
Presenters:
Roger Barnette, CEO, MessageGears
Roger Barnette is CEO of MessageGears, a revolutionary email marketing technology provider that allows major global brands to deliver individualized experiences to their customers at scale in real-time. Roger is focused on helping global businesses expand their marketing reach through innovative yet practical technology and services solutions.
Roger has more than 20 years of experience leading and growing technology businesses. Prior to MessageGears, he was president and founder of IgnitionOne (acquired by Dentsu). Previous growth leadership positions include Biltmore Communications (acquired by DIRECTV) and eTour (acquired by Ask.com).
Madelynn Brown, Product Manager, Omnichannel Communications, Expedia
Madelynn Brown helps automate and operationalize massive amounts of data to ensure Expedia's customers are getting relevant, personalized content at the right time on the right device.
 
About MessageGears
MessageGears is the only email service provider that enables the world's top brands to send dynamic, high-volume marketing messages with speed and precision by providing a platform that overcomes the inherent limitations of marketing cloud email systems. Founded in 2010, MessageGears is based in Atlanta, Georgia.
About Expedia.com®
Expedia.com® is one of the world's largest full-service travel sites, helping millions of travelers per month easily plan and book travel. Expedia.com (https://www.expedia.com/, 1-800-EXPEDIA) aims to provide the latest technology and the widest selection of top vacation destinations, affordable airfare, hotel deals, car rentals, destination weddings, cruise deals and in-destination activities, attractions, services and travel apps.
###
Company Contact:
Will Devlin
will.devlin(at)messagegears.com
Media Contact:
Stephanie Richards
SowGrow PR
678-744-7690
contact(at)sowgrowpr.com