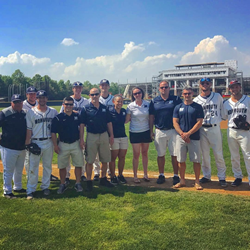 Having an emergency action plan in place is paramount in ensuring that the best possible care is provided in an emergency," said Christina Emrich, President of the ATSNJ.
Long Branch, New Jersey (PRWEB) July 18, 2017
Tuesday, April 25, 2017 is a night that the athletic training staff of Monmouth University and the almost 500 Monmouth University student-athletes, coaches, staff and administration who attended the annual Monmouth University Student-Athlete Awards Banquet will not soon forget. At approximately 7:30 PM, a student-athlete member of the baseball program was in distress. Luckily for that student-athlete, the sports medicine staff from the school which includes Nate Miker, Siobhan Huggins-Sullivan, Aaron Bottinick, Chuck Whedon, Vanessa Sweeney and Simon Rosenblum were in attendance.
The group of athletic trainers were alerted when other student athletes noticed a fellow athlete was having a medical emergency. Initially those around him thought the individual was choking, but as Mr. Miker approached, it was clear that he was having a grand mal seizure and was unresponsive. As Vanessa, Siobhan, Aaron and Chuck approached the table, the determination was made to move him from the chair to the floor. It was at this point that Nate began his assessment and determined that there was no pulse and Chuck noted the lack of respirations. As the team seamlessly worked together to provide care, Siobhan took charge and initiated compressions while Chuck followed with breaths and Nate monitored blood flow and pulse. It was also at this time that Simon was coordinating EMS activation and instructing on crowd control. After three cycles of CPR, the AED arrived and a shock was administered to the patient. This initial shock resulted in a heart rhythm and breathing, however the team was not out of the woods yet. As treatment continued, EMS arrived and the team prepared to load the patient on the gurney, he stopped breathing again and there was no pulse. The group of athletic trainers, working together with the EMS group that was now on site had to administer another cycle of compressions and breaths and another shock was administered to the patient. The individual was then loaded onto the stretcher and was transported to Monmouth Medical Center. Aaron accompanied the student-athlete and reported that two more shocks were administered in the ambulance and that the student-athlete was later stabilized in the Emergency Room.
When asked about the experience, Chuck Whedon said, "We were in the right place at the right time. Practicing the scenario made for immediate care and a seamless transport so that there was virtually no oxygen deprivation." Mr. Whedon also added, "The fact that this occurred in an unconventional venue and 500 people who knew this young man were in the room and many helped clear the entrance way made for a unique experience."
The student-athlete in distress was placed into a medically-induced coma and cooled for two days. After all tests came back negative, the individual had a pacemaker installed and was released on Friday, May 5, 2017. We are happy to report that he is doing well!
The Athletic Trainer's Society of New Jersey is so proud of the life-saving effort put forth by the athletic training staff from Monmouth University. "Having an emergency action plan in place is paramount in ensuring that the best possible care is provided in an emergency," said Christina Emrich, President of the ATSNJ. "This situation was no exception. Their swift call to action along with the activation of their emergency action plan, outside normal parameters, undoubtedly saved this young man's life."
ATSNJ, Inc. consists of licensed athletic trainers, physicians and other allied healthcare professionals whose goal is to promote quality healthcare for athletes in any setting. For more information, please visit us on the web at http://www.atsnj.org or on Facebook (ATSNJ's New Jersey Sports Safety), Twitter (@NJSportSafety) and Instagram (atsnj).