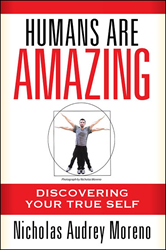 "We are especially proud to be the publisher of this captivating self-help book that offers photos and diagrams showing how we can reach our full potential." - Robert Fletcher, CEO of SBPRA
(PRWEB) July 17, 2017
In this unique and thought provoking self-help book, author Nicholas Moreno says that "The problem is that most people think they know who they are and what they're capable of. But the truth is that humans only use half their body, so they're only achieving half of what they could be."
He points out that most everyone uses only their right hand, instead of both hands. But he wonders, what if people used both hands equally?
He believes that there are many reasons to use both hands and sides of the body: to become physically and mentally stronger; develop better memory and imagination; excel at music, drawing, and sports; and even to enjoy better health. He encourages everyone to imagine what a world it would be if everyone could reach their full potential. "Humans Are Amazing", but the author believes we can be even more amazing!
"We are especially proud to be the publisher of this captivating self-help book that offers photos and diagrams showing how we can reach our full potential," said Robert Fletcher, CEO of Strategic Book Publishing and Rights Agency.
About the Author: Nicholas Audrey Moreno earned his A.S. degree in computer science from Rio Hondo College in Whittier, California. He works for the Los Angeles County Department of Health Services, is happily married, and credits his family for being his lifesaver.
HUMANS ARE AMAZING: DISCOVERING YOUR TRUE SELF (ISBN: 978-1-68181-958-7) is now available for $14.99 and can be ordered through the publisher's website:
http://sbprabooks.com/NicholasAudreyMoreno or at Amazon.com or Barnesandnoble.com.
WHOLESALERS: This book is distributed by Ingram Books and other wholesale distributors. Contact your representative with the ISBN for purchase. Wholesale purchase for retailers, universities, libraries, and other organizations is also available through the publisher; please email bookorder(at)sbpra(dot)net.