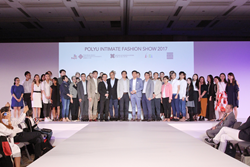 (PRWEB) July 17, 2017
The Show showcased 12 final collections, each comprise six outfits, designed by the graduating students from PolyU's Institute of Textiles and Clothing (ITC) majoring in Intimate Apparel. The raw materials as well as the design and production mentoring for the show were sponsored by intimate apparel manufacturers and suppliers.
Professor John H. Xin, Chair Professor and Head of ITC, expressed his deep appreciation towards the Crystal Group for their substantial donation and support. He remarked that the students' innovation, talent and passion for intimate apparel design were manifested in this unique fashion show.
Ms Angie Lau, Chairman of Hong Kong Intimate Apparel Industries' Association (HKIAIA), stressed that HKIAIA would continue to support and nurture the young generation for the future growth of the industry.
With ITC's close connection with the industry, ITC has secured the full support from the High Fashion Group for the intimate fashion show next year.
*****
Press contact: Miss Anne Hon
Marketing Manager
Institute of Textiles and Clothing
Telephone: (852) 2766 6463
Email: anne.hon@polyu.edu.hk