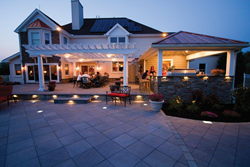 Woodbury, NJ (PRWEB) July 18, 2017
Gone are the days of the lone porch light. Coordinated outdoor lighting adds curb appeal and dramatic emphasis to a landscape, patio and pool deck. Lighting design doesn't have to be complicated. Follow these tips from EP Henry, manufacturer of outdoor Hardscaping pavers and walls to illuminate your patio, walkways or pool deck, like a Hollywood pro.
Know the rules
Check local laws and regulations. Legislation which allowed corporations to be legally viewed like people with rights has spawned a new movement to qualify Mother Nature in the same way. In Pittsburgh, Pennsylvania, legislation was unanimously passed to protect nature's right to exist free of fracking activity. Municipalities have long ruled against infringements upon a natural environment. In particular, light pollution is a recognized nuisance in many municipalities. Light pollution been shown to interrupt sleep and adversely affect vegetation. Make sure the brightness level of any outdoor light is within typical parameters. Put all non-emergency outdoor lights on a timer. Be aware of brightness and tonal shades of outdoor lighting. Some municipalities may guide owners to cool or warm tones in an effort to distinguish home lighting from street or emergency lights. The brightness level and hours of operation for certain spotlights may also be regulated. Check for any restrictions before you buy or install any outdoor lighting.
Emphasize architectural elements
A home's front entrance is the typical area to emphasize. Bring attention to the entrance and large landscape elements. A shielded spotlight pointing up through a tree's branches adds depth and interest. Shrubs and natural scenery look amazing with a little uplight. Patios, pools and pool decks glow at night with the right lighting. Small shaded solar-powered lamps along a paver walkway invite guests to the entrance of the home. For a modern look, incorporate paver lights into the walkway or driveway itself. Paver lights are units made in the shape of neighboring pavers that lay flush with the walkway surface. Even the simple porch light has evolved. The newest options for this old standard are elegant and more efficient. Environmentally-friendly bulbs come in all shapes, sizes and colors now.
Give it a try
Your home's personality can be boosted with a few strategically placed spotlights. Take your outdoor lighting project step by step. Even the smallest of landscapes can benefit from some dramatic lighting. With some of these outdoor lighting adjustments, your home can be the picture-perfect showplace of the neighborhood.
About EP Henry®
EP Henry®, the oldest American family-owned and operated manufacturer of unit concrete products in North America, provides the highest quality and broadest product offerings in Hardscaping(™). Based in Woodbury, New Jersey, EP Henry manufactures a wide range of paving stone and retaining wall products. EP Henry offers beautiful patio pavers, outdoor kitchen kits, garden wall solutions and more. For more information on EP Henry Hardscaping products, visit EPHenry.com or call 800-44-HENRY (800-444-3679).