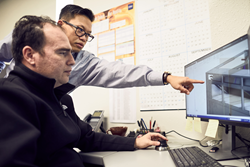 safety, compliance, and quality are the main components that go into designing and manufacturing a CAPS piece of equipment
Houston, Texas (PRWEB) July 18, 2017
Custom Air Products & Services, Inc., one of the largest custom HVAC manufacturers in North America with over 40 years of experience specializing in the design, construction, installation, modification, and servicing of industrial, commercial and offshore HVAC equipment, is proud to announce the addition of multiple new line listings this year. NRTL organizations are recognized by the Occupational Safety & Health Administration (OSHA) to provide evaluation, testing, and certification of products assuring compliance with necessary safety standards.
The additional line listings obtained this year are for our most in-demand portable CAPS built HVAC units: the 10, 20, and 30 ton vertical/entertainment units (general purpose location), the 40 & 65 ton horizontal compact units (general purpose location), and the 20, 40, and 80 ton industrial units (general purpose location and Class 1 Division 2 hazardous location). This is in addition to CAPS existing general purpose and/or hazardous locations line listing for 1 through 20 ton wall mounts, 0.5 through 2 ton window units, 2.5 through 30 ton industrial package units, and several other product lines for general purpose locations.
When asked why does a company need their products NRTL certified? CAPS Engineering Manager, John Phan explained, "Certification is needed to ensure equipment compliance that meets the legal standard required by OSHA. "Simply put," it's all about equipment compliance and reliability. To a customer buying a CAPS certified piece of equipment, it ensures that safety, compliance, and quality were the main components that went into designing and manufacturing their piece of equipment."
CAPS' experience with the inner workings of the safety certification standards and companies that evaluate the standards, has allowed CAPS to react quickly and thoroughly to the sometimes indistinct aspects of the standards and certification process. CAPS routinely tests and evaluates their products to many standards such as UL 1995, UL 1203, ISA 12.12.01, NFPA 496 as well as Canadian equivalents and IEC requirements.
According to OSHA, their NRTL program "recognizes private sector organizations to perform certification for certain products to ensure that they meet the requirements of both the construction and general industry OSHA electrical standards." It is this kind of partnership between OSHA, the NRTL organization, and manufacturers such as CAPS that provides customers with the products and associated services they need to help them better serve their own employee, customer, and client needs.
About Custom Air Products & Services
Custom Air Products & Services, Inc. is a full-service HVAC company that specializes in the design, construction, installation, modification, and servicing of industrial and commercial HVAC equipment. CAPS employees are committed to providing exceptional custom design and quality workmanship at competitive prices.
Custom Air Products & Services currently occupies six (6) modern facilities, totaling 300,000 square feet in size. These buildings include manufacturing, fabrication and modifications, paint booths, a parts warehouse, engineering offices and a training facility. CAPS services are provided to customers throughout the United States and abroad with manufactured equipment operating on six (6) continents and in (52) countries.