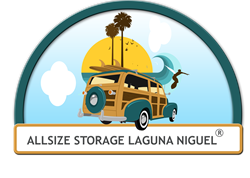 Laguna Niguel, CA (PRWEB) July 18, 2017
Allsize Storage of Laguna Niguel has just unveiled their newly redesigned website that features a reservation portal that makes it easy for clients to interact with the company. According to a company spokesperson, "We are very happy with the redesign of our website because it allows our clients to quickly learn about our company and the services we offer, and reserve space directly from the site."
The website has been re-designed to give visitors concise information and an easy way to communicate with the company. The site feature seven distinct pages, including the Home page, Our Services, Access & Security, FAQ's, About Us, Benefits, and Contact US.
The Home page features a brief description of the company's services, the contact information and a location map. Perhaps the most significant feature of the Home page is the Reservation link that is featured prominently in the first third of the page. Clicking on the Reservation link takes visitors to the reservation page which lists the various size storage spaces offered, including the price for each space and a brief description of what the space will hold. For those who know exactly how much space they need, reserving the space is simply a matter of clicking the link under each option. Customers who are not quite sure how much space they need can call the number at the top of the page and speak with a company representative.
The other pages on the website feature a full page describing the company's various services, information about the company, the frequently asked questions the company receives, a listing of the benefits of using storing items at Allsize Storage, and a Contact Us page. Finally, there is an entire page dedicated to the safety and security features the company offers. This page covers the state-of-the-art security system in place, the 24-hour video surveillance, and the gated access.
Allsize Storage has been serving clients in south Orange County for over 30 years. The company offers storage spaces with 24-hour security monitoring, all drive up units, clean and well-lit spaces, a fully fenced facility, and electronic gate with keypad access.
The redesigned website is available at http://allsizestoragelagunaniguel.com. Company representatives can also be reached at 949.364.6219.