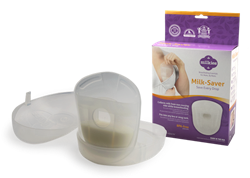 Bellingham, WA (PRWEB) July 18, 2017
Breastfeeding moms know their breast milk is a precious commodity. Now these moms can go to their local Babies 'R Us store to find essential support products from Milkies by Fairhaven Health, designed to help them reserve every precious drop of "liquid gold" for their babies.
The award-winning, patented Milkies Milk-Saver collects leaking breast milk using a simple insert slipped into bra-cups on the non-nursing side. Using a Milk-Saver while nursing or pumping, moms can effortlessly collect extra breast milk that is typically lost. Once breastfeeding is complete, moms simply transfer the collected milk into storage containers to refrigerate or freeze for later. Rigorously tested to ensure zero chemical leaching and without BPA or phthalates, Milkies Milk-Saver is the only product of its type and has received accolades from lactation specialists, pediatricians and breastfeeding moms the world over.
"We are excited to partner with Babies 'R Us to bring Milkies to more moms," said Milkies co-founder, Helen Anderson. "Our buyer told us that Milkies were one of the most requested products by shoppers, and as a mom myself, I know it's a great addition to their breastfeeding selection."
When moms are breastfeeding, it's important that problem-solving products are close by, and with nationwide coverage, Milkies will now be within a short drive for many moms. Also available with the new retailer roll-out are Milkies Milk & Food Trays, into which the precious collected milk can be transferred, allowing for freezing of both milk and baby food. Unlike ice cube trays, Milkies Milk & Food Trays are specifically designed for expressed milk or baby food. Each box contains 2 trays featuring 16 semi-cylinder cavities holding 1 oz. each. Made from PET plastic, a food-safe plastic that contains no bisphenol-A (BPA), phthalates, or dyes, Milk & Food Trays freeze milk (or baby food) in 1 oz. "sticks" that fit through all types of bottle openings and allow anyone to thaw just the right amount of milk or baby food for each feeding.
Milkies co-founder, Tobi Porter echoes, "Helen and I are so excited to have our amazing Milkies products now in Babies R Us! This partnership is a huge step in getting our innovative mom-invented breastfeeding products into more moms' hands."
Milkies Milk & Food Trays have fitted lids to allow for space-saving stacking in the freezer. Plus, the trays are flexible enough to allow the frozen milk or food to pop out easily. They're also reusable, making them an economical and environmentally-friendly choice for freezing your breast milk and baby food.
Ethan Lynette, a partner of Milkies parent company, Fairhaven Health says, "We're big advocates of breastfeeding here at Fairhaven Health and are very excited to be working with Babies 'R Us. With their extensive reach and accessibility, we're able to collaboratively help more women reach their breastfeeding goals."
Milkies Milk-Saver and Milkies Milk & Food Trays are available online and at select Babies 'R Us stores across the country this month. See a short video of Helen demonstrating how both products help women to reach their breastfeeding goals.
For more information, please contact Corinne Petras at Corinne(at)BrilliantPRM(dot)com
About Fairhaven Health
Fairhaven Health is the nation's largest specialty supplier of natural, physician-designed products supporting women's health including fertility enhancement, pregnancy, breastfeeding and beyond. The company offers a broad range of products to help couples conceive with natural alternatives to more expensive and invasive infertility treatments. Fairhaven's clinically validated fertility supplements and ovulation prediction tools are recommended by OBGYNs and fertility specialists and have helped tens of thousands of couples conceive naturally. The company's physician-designed prenatal supplements and award-winning Milkies nursing products help new moms meet their breastfeeding goals. Its newest brand, IsoLove, offers paraben-free, isotonic biogels designed for vaginal health, perineal massage and postpartum recovery. Learn more at Fairhavenhealth.com and the Milkies Boob Tube Facebook Live show on @bellytobreast.