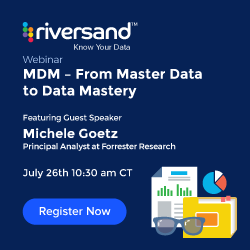 Companies that strategically invested in MDM consistently outperform both digital and non-digitally focused organizations
Houston, TX (PRWEB) July 18, 2017
Riversand Technologies, a Master Data Management visionary and a Product Information Management Leader, presents a webinar featuring Forrester Research on July 26, 2017, at 10:30 am CST (11:30 am EST, 9:00 am PST).
To achieve digital transformation means businesses need to be data-driven, insight-rich, and intelligently powered. Companies that strategically invested in MDM consistently outperform both digital and non-digitally focused organizations. MDM brings understanding to the data across a complex hybrid ecosystem of data silos and platforms allowing digital enterprises to gather, orchestrate and syndicate data and insights anywhere at any time. The best practices, skills, and technologies needed to power master data are the foundational skills to scale the broader investment in information and analytic architecture.
In this webinar, Guest Speaker, Michele Goetz, Principal Analyst at Forrester Research, will share

How MDM is at the center of driving stronger business outcomes.
How MDM competencies lay the foundation for data mastery and deeper insight.
Evolution of MDM technology to meet new challenges.
Register now to attend this free Webinar.
About Riversand
Riversand is a Master Data Management (MDM) Visionary and a Product Information Management (PIM) Leader. Riversand serves leading global enterprises in Retail, Manufacturing, Distribution, Energy, Healthcare, and Food Services. Riversand MDMCenter helps clients enhance their customers' experience and move products faster to the market. Riversand is headquartered in Houston with offices in Bangalore (India), London (UK), Stuttgart (Germany), Switzerland and Sydney (Australia) Visit us at http://www.riversand.com for more information and follow us @RiversandMDM on Twitter @Riversandtech on Instagram, @RiversandTechnologies on Facebook.