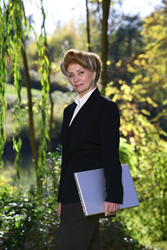 Grants Pass, OR (PRWEB) July 18, 2017
Sharon Kleyne knows water. As the global expert on water evaporation and water supplementation, Kleyne was offered her own radio show and she leapt at the opportunity. "I've always been a teacher," said Kleyne, "and what better way to reach people than this." The 'this' that Kleyne refers to is her nationally syndicated The Sharon Kleyne Hour Power of Water, Global Climate Change and Your Health on VoiceAmerica sponsored by Nature's Tears® EyeMist®. Recently, on the air, she looked back on her ongoing journey.
For eleven years, Kleyne has begun each show with a thorough, crisp description of evaporation and the need for supplementation. Kleyne points out that the human body begins a lifelong, natural process of evaporation the moment it exits the mother's watery womb. "This process continues until death," says Kleyne. However, Kleyne elaborates. If humans don't supplement their evaporated body-and-eye water vapor, they will suffer illness and early death. Kleyne believes that understanding the process of evaporation is essential to becoming more successfully proactive about one's ocular health.
That is why she founded Bio-Logic Aqua® Research Water Life Science® and created nature's Mist® Face of the Water®, Nature's Tears® EyeMist® and Bio-Med Wash®. Since then, Kleyne's products have saved thousands of lives and provided relief and improved skin health and eye health for millions of people around the world. Kleyne's globally patented products have been endorsed by thousands of ophthalmologists, optometrists, internists, dentists, military personnel and first responders everywhere. And in recent weeks, Kleyne was proud to announce the release of Nature's Tears® EyeMist® in China, the country with the world's largest population and the greatest number of sufferers of dry eye disease and blindness. "We believe that Nature's Tears® EyeMist® will bring great relief to long-suffering Chinese victims of these and other ocular ailments," says Kleyne.
Pivoting to her radio program, Kleyne reminisced about the stellar cast of characters that have appeared as her special guests each week. Kleyne recalled Dame Dr. Effie Chow, Qigong Grandmaster, Registered Public Health & Psychiatric Nurse, California and nationally-licensed Acupuncturist http://www.eastwestqi.com and frequent guest and Rose Hong, Executive Director of Global Dragon TV http://www.GlobalDragonTV.com; Dr. Yuan Fang, M.A. of the Bio Chemistry Research Center in China; Chief Climatologist L. DeWayne Cecil, Ph.D; Adetutu Ijose
http://www.foodsthathealdaily.com and Dr. Gerald H. Pollack, Ph.D.
http://www.faculty.washington.edu/ghp among many, many others.
Kleyne looks forward to broadcasting the truth about water, new water research and new water technology now and in the decades ahead to an ever-growing, devoted listening audience. "Have we made progress," Kleyne asks, "in our effort to educate everyone in the world about the global water crisis and what one can do to be healthy? Yes, but we have far more to do." As she has proved many times, Kleyne is up to the challenge. Indeed, she relishes it. As she often does, Kleyne asks that people "please resolve to take greater charge of your health, especially your eyes and the precious gift of sight. You only have two eyes," Kleyne reminds us. She also encourages listeners to share the good news about her radio program and encourage others to tune in. "Little by little," says Kleyne, "we will win the fight against skin and eye diseases in the U.S., in China and all over the world."