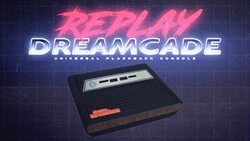 The Dreamcade Replay comes with over 2 dozen emulators and techies can add even more with our open platform, but it's still simple enough for Grandma to use.
Sacramento, CA (PRWEB) August 15, 2017
Dream Arcades, a leader in retro video gaming technology for almost 14 years has raised nearly $250,000 for its Universal Flashback Console, the Dreamcade Replay. Equipped with game streaming software, users can stream over 10,000 titles from the Internet Archive and other sites for free. Besides retro gaming, the Replay also runs PC games, as well as dozens of emulators that come pre-installed. Best of all, it starts at just $99.
The Dreamcade Replay is a Windows 10 device designed to be a simple-to-use, one-stop solution for all your retro gaming needs, and it truly lives up to that standard thanks to its unparalleled features.
The device has received high praise from reviewers. YouTube retro gaming vlogger ETA Prime says, "I've been messing with it for 4 days & it is amazing." Long-time Technology expert Chris Pirillo not only praises the company, "After about ten years of regular use, it works well. I've never had a problem with that (arcade) system." He also, calls the Replay, "An experience as a kid I dreamed of... This is everything the kid in me always wanted."
The Dreamcade Replay plays nearly every classic console including Colecovision, Intellivision,, Sega Genesis, Nintendo Entertainment System (NES), Super NES, and Nintendo 64 just to start.
"The Replay plays both newer and re-released games from stores like Steam, as well as arcade and console ROMs. It functions as a media player, supporting all major media services, like Netflix, Hulu, and Amazon video," says Michael Ware, Head Geek at Dream Arcades.
The Replay is a unique addition to the gaming world with its new CART (Cartridge Analysis & Recognition Tool) application, as well as the Retro Reload Google Safe Search, and over 100 classics pre-installed. Finally, there's the exclusive streaming software to stream tens of thousands of games for free from sites like the Internet Archive.
Hardcore and casual gamers will enjoy a wide range of arcade games, PC titles, casino games, slot machines, pinball games, MP3's, movies, and much, much more. From Pong to PlayStation, they'll find and play all their favorite titles with just a few clicks, and without any user configuration. While the Safe Search feature protects them from harmful websites & viruses. With pricing starting at just $99, the Dreamcade Replay is the ultimate entertainment console--unlike other flashback consoles that only play a few games from a single system.
The Dreamcade Replay is available at special one-time pricing on Kickstarter (http://kck.st/2wsQ0E3) for just a few more days, where it's received almost $150,000 in pledges. In addition, Dream Arcades won $100,000 on Steve Harvey's Funderdome to help fund the project.
Product demonstrations are available around the Bay Area for media representatives.
All Trademarks are property of their respective owners. This product is not endorsed by Steve Harvey's Funderdome, ABC, or MGM Studios.
About Dream Arcades:
Dream Arcades is the world's largest manufacturer and distributor of arcade machines for the home or office. Since 2003, Dream Arcades machines have been enjoyed by gamers all over the world. Our video games meet high quality standards and each product goes through a rigorous series of tests before shipping to the customer. Dreamcade llc is our newest venture in low-cost gaming. For more information, please visit http://www.Dreamcade.com, media(at)dreamarcades(dot)com, or call 916-761-6925. High resolution print images are available.