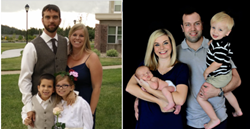 At GenConnect, my aim is to make the job search process as easy as possible,
ATLANTA, GA (PRWEB) July 19, 2017
GenConnect Recruiting announced today the hiring of two new recruiters. The company, which recently commemorated its one year anniversary, is celebrating accelerated growth with the hiring of two new employees. Kristie Peterson and Kelly Thompson.  
Peterson joins GenConnect Recruiting to support the company's recruiting efforts. She is a Georgia State University graduate with a major in Sociology. Kristie has been a stay at home mom for the past 9 years and is entering back into the workforce.
Before becoming a stay at home mom Kristie worked in sales and recruiting for a staffing company. She placed entry level and experienced professionals from a variety of industries in temporary, temporary to permanent, and permanent positions.
"I am so excited to join GenConnect Recruiting, and am really pleased with their fun and different approach to recruiting. The company places a heavy emphasis on work-life balance with flexible hours and virtual offices, a model that will work really well for me," said Peterson.
Thompson comes to GenConnect Recruiting with seven years of recruiting experience in a host of industries. She will begin her tenure with the company by assisting with recruiting efforts and will also assume coaching responsibilities. She is an Auburn University graduate with a Bachelor degree in Human Resources Management. Kelly has spent the past five years working as a human resources generalist and recruiter for a regional IT consulting company. She has experience in many HR facets including employee relations, career development, performance reviews and onboarding.
"At GenConnect, my aim is to make the job search process as easy as possible, ensuring a mutual fit for both candidates and employers. I understand the unique needs of millennials and the value they add to any team or workplace," Thompson said.
GenConnect Recruiting is pleased to onboard these two professionals to help grow its national coverage. Peterson will be working from Atlanta, Georgia, while Thompson will be based in Birmingham, Alabama, both working virtually. The company is excited about its expansion over the last year, and will continue to build upon its success.
About GenConnect Recruiting
GenConnect Recruiting is a firm that specializes in the recruitment and hiring of talented candidates for businesses in a variety of industries. The innovative firm offers a full range of services to support both the employer and job seeker before, during and after the hiring process. From career employee benefits and HR policies to career coaching and financial planning, GenConnect Recruiting is a unique resource in today's competitive market. To learn more, visit genconnectrecuiting.com.  
Media Contact:
Kerry Higley
GenConnect Recruiting, Owner
E: kerry(at)genconnectrecruiting(dot)com | P: 256.713.9292