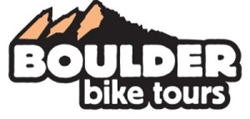 Boulder, CO (PRWEB) August 01, 2017
Bike tour operator Boulder Bike Tours is excited to announce that the company's popular Boulder City Tour is now available for private bookings. Voted the top cycling city in America by the Travel Channel in 2016, Boulder offers hundreds of miles of bike paths for riders of all ages and experience levels. On the two-hour Boulder City Tour, a knowledgeable and experienced guide provides assistance and safety information, as well as a narrated ride past some of the city's most noted cultural and historic sites, from Boulder Canyon to the University of Colorado.
To learn more about the Boulder City Tour, visit:
https://boulderbiketours.com/tours/city-tour/
Designed for groups of 5 to 50 members, the group tour experience is an excellent way to build teamwork, boost confidence, and share the adventure. Boulder Bike Tours has hosted some of the biggest corporate names in the country, as well as numerous private events, and is able to accommodate rider groups that are mixed in experience level. Lodging, dining arrangements and other add-ons are also available.
From wedding parties to work teams, groups are now able to enjoy a fully customized experience at their desired time and date. Those who are interested in making a group reservation can e-mail the company with their plans at info[at]boulderbiketours.com, and then follow up with a quick phone call (303-747-6191) to confirm all the details.
About Boulder Bike Tours
Based in Boulder, CO, home of some of the world's best road and mountain biking, Boulder Bike Tours offers unique trips that showcase the area's culture and natural beauty. BBT founder Herschel Goldberg has lived in Boulder since 1969 and is a member of the Boulder Mountain Bike Patrol, the Boulder Mountainbike Alliance (BMA) assisting local and state land management agencies and is a founding Board Member of the Colorado High School Cycling League. The hand-picked staff has years of biking experience and a true passion for cycling. Their certifications and experience include Wilderness First Aid and Wilderness First Responder, CPR, and National Outdoor Leadership School (NOLS).
Boulder Bike Tours also has relationships with international mountain biking outfitters, which allows them to provide tours in some of the most exciting locations around the globe.
Those who would like to join a tour may call Boulder Bike Tours at (303) 747-6191 or visit the website at http://boulderbiketours.com.