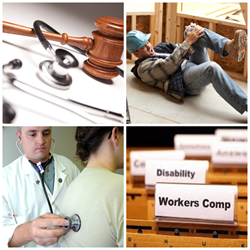 Cambridge, MA (PRWEB) July 19, 2017
The Workers Compensation Research Institute (WCRI) will be hosting a free 45-minute webinar on its most recent research on outcomes for injured workers on Wednesday, August 9, 2017, at 2pm ET (1pm CT; 12pm MT; 11am PT).
The outcomes examined include recovery of physical health and functioning, return to work, earnings recovery, access to medical care, and satisfaction with medical care. Dr. Bogdan Savych will discuss findings from WCRI's recently published worker outcomes studies and take questions.
"The goal of this research is to provide information about injured workers' experiences with the workers' compensation system," said John Ruser, WCRI's president and CEO. "By examining outcomes of injured workers, policymakers and other stakeholders can better understand how different state systems compare in order to identify and prioritize opportunities to improve system performance."
The research, Comparing Outcomes for Injured Workers, 2016 Interviews, is a product of an ongoing, multiyear effort by WCRI to collect and examine data on the outcomes achieved by injured workers in a growing number of states. Interviews were conducted in six of the states (Indiana, Massachusetts, Michigan, North Carolina, Virginia, and Wisconsin) in 2016. Interviews for all other states (Arkansas, Connecticut, Florida, Georgia, Iowa, Kentucky, Minnesota, Pennsylvania, and Tennessee) were conducted from 2013 to 2015.
Questions addressed:

In what states did injured workers report higher rates of return to work?
How did recovery of physical health and functioning vary across study states?
In what states did injured workers report higher rates of experiencing "big problems" getting desired medical care?
What percentage of injured workers across the 15 states was satisfied with their overall medical care?
Click here to register for this webinar.
About WCRI:
The Workers Compensation Research Institute (WCRI) is an independent, not-for-profit research organization based in Cambridge, MA. Organized in 1983, the Institute does not take positions on the issues it researches; rather, it provides information obtained through studies and data collection efforts, which conform to recognized scientific methods. Objectivity is further ensured through rigorous, unbiased peer review procedures. WCRI's diverse membership includes employers; insurers; governmental entities; managed care companies; health care providers; insurance regulators; state labor organizations; and state administrative agencies in the U.S., Canada, Australia, and New Zealand.