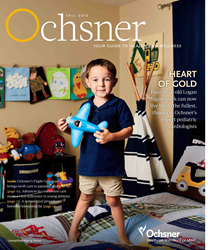 Ochsner magazine helped us deliver inspiring patient stories and consumer focused health and wellness content to our patients and their families. -Elizabeth Joint, Marketing Manager
Walnut Creek, CA (PRWEB) August 01, 2017
Diablo Custom Publishing (DCP), received a silver award for best publication from the Healthcare Advertising Awards for their edit and design excellence for the Fall 2016 issue of Ochsner magazine.
The 34th Annual Healthcare Advertising Awards—sponsored by Healthcare Marketing Report—is the oldest, largest and most widely respected health care advertising awards. A national panel of judges reviewed all entries based on creativity, quality, message effectiveness, consumer appeal, graphic design and overall impact.
This year nearly 4,000 entries were received, making the awards the largest healthcare advertising awards competition and one of the ten largest of all advertising awards. Gold awards were given to 367 entries, silver awards to 322 entries and bronze awards to 281 entries.
ABOUT DIABLO CUSTOM PUBLISHING
Diablo Custom Publishing (DCP), a leading custom publisher based in the San Francisco area, provides complete print, online and mobile custom publishing services to a diverse group of clients, including top-level organizations in the health care and higher education industries, as well as in arts and entertainment, sports, and technology. With more than 30 years of experience and an award-winning creative team, DCP develops integrated marketing solutions that help companies communicate brand value, deepen customer loyalty and increase revenue. Visit dcpubs.com. For more information, contact Dennis Cook, Director of Sales at dcook(at)dcpmail(dot)com or 925-943-1111.
ABOUT OCHSNER HEALTH SYSTEM
Ochsner Health System has been providing high-quality clinical and hospital patient care to Louisiana residents since 1942. As southeast Louisiana's largest nonprofit, academic, multispecialty health care delivery system, Ochsner is driven by a mission to Serve, Heal, Lead, Educate and Innovate and is comprised of more than 17,000 employees and over 2,700 affiliated physicians. Coordinated clinical and hospital patient care, all connected electronically to provide convenience for their patients, is provided across the region by Ochsner's 29 owned, managed and affiliated hospitals and over 60 neighborhood health centers. Visit ochsner.org. For more information, contact Foofie Schaefer, Marketing Associate v-lschaefer(at)ochsner(dot)org or 504-703-2066.