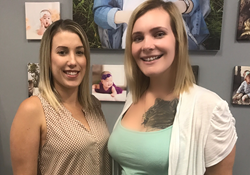 "I absolutely love that I get to share my experiences to help other surrogates out there," said Shannon, co-host of Surrogate Scoop.
San Diego, CA (PRWEB) July 20, 2017
Surrogate Scoop recently unveiled its fresh look on Facebook Live. The online community is a destination for intelligent conversation and some lighthearted fun for surrogates and for the women thinking about becoming surrogates.
The new faces of Surrogate Scoop are co-hosts Breana and Shannon. Both are two-time surrogates and weigh in on everything about surrogacy. In light of the Kim Kardashian and Kanye West surrogacy news, Breana and Shannon's arrival on Surrogate Scoop couldn't have come at a better time. The media headlines triggered a strong interest in learning more about surrogacy as well as what it takes to become a surrogate.
And that's where Shannon and Breana and come in – it's their niche.
"I absolutely love that I get to share my experiences to help other surrogates out there," Shannon said. "I love sharing tips and tricks and helping to answer questions that surrogates may have. It gives a sense of community, a sense that whatever they may be going through, they are not alone."
For Breana, she echoes the very same.
"I love being able to talk with and help other surrogates and women thinking about becoming a surrogate. It's very rewarding to be able to help a couple but then be able to use my experience and help other families behind the scenes," Breana said.
In addition to Surrogate Scoop, the duo works in the Surrogacy Admissions Team at an international agency and are also Care Coordinators. As Care Coordinators, they lend a listening ear and provide advice to surrogates before and after an embryo transfer, during those "when are they going to end" hormonal rides, and easing those delivery date nerves.
Being described as one of the top influencers of Facebook Live, their fan engagement numbers have skyrocketed.
"It's been fantastic to hear the great feedback about the interactive live feed of Surrogate Scoop," said Mario Caballero, CEO of Extraordinary Conceptions headquartered in San Diego County. "Surrogate Scoop is a fun, casual but very relevant platform where Breana and Shannon provide realistic answers to questions about surrogacy, dispel surrogacy rumors and myths, and offer education about the process."
Surrogate Scoop is all about giving genuine answers to questions – and every question matters when it comes to making parenthood dreams come true through surrogacy.
To learn more about Surrogate Scoop and when the next live feed will roll, visit Extraordinary Conceptions' Facebook page at https://www.facebook.com/ExtraConception/ . Send questions over ahead of time so Breana and Shannon can reply to them.
About Extraordinary Conceptions:
Extraordinary Conceptions is an International Egg Donor and Surrogacy Agency headquartered in Southern California in the United States. Extraordinary Conceptions' mission has always been to help as many people as possible fulfill their dreams of having children. They continue to stand up for equality and fight against discrimination to help create families all over the world. Please visit their website http://www.extraconceptions.com for more details on becoming a surrogate or egg donor.