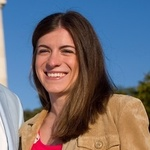 We are thrilled to welcome Julia to our Community Relations team!
Chantilly, VA (PRWEB) July 19, 2017
Moss Building and Design, an award winning remodeling company in Northern Virginia, is excited to announce the appointment of new Community Relations team member, Julia Kilberg. Julia will be organizing MOSS' Community Relations initiatives in McLean, Vienna, and Falls Church.
Julia will be supporting MOSS' philanthropic efforts by coordinating HandyMOM 101 and HandyGirl 101 workshops for women's groups in Northern Virginia, identifying sponsorship and donation opportunities for MOSS, writing blogs about home improvement topics, and acting as the MOSS brand ambassador in her local community.
Julia brings a world of experience to the Community Relations team. She attended Princeton University for her undergraduate degree and then George Washington University, where she earned her master's in Media and Public Affairs. For the past eight years, Julia has built a career in digital marketing. She has worked for a social media marketing agency, a public affairs firm and a healthcare industry consulting firm as a digital marketing consultant, providing clients from small businesses and DC-based associations to large Fortune 500 companies with social media strategic plans, creative social media content as well as digital advertising plans. She is also a published writer in Country Living magazine. Julia is involved in a wide range of local activities and organizations. She is also a new mother to her 16 month old baby girl, enjoys writing, watching HGTV, and gardening. She will be a huge asset to MOSS' community outreach efforts!
"We are thrilled to welcome Julia to our Community Relations team," said Community Relations Manager, Jenn Zschunke. "She comes to us with years of marketing experience behind her and we are excited to watch our team continue to come up with ways to touch the local community, even more so with Julia's assistance."
About Moss Building & Design and Moss Home Services:
Moss Building & Design and Moss Home Services is an award-winning residential remodeling and home services company located in Chantilly, Virginia. As a trusted home improvement company in Northern Virginia, MOSS focuses on providing customer service that is unparalleled by any other contractors in the area. Through trust, transparency and character, MOSS builds lifelong relationships with their customers.
Since 2001, MOSS has established a reputation for excellence in remodeling additions, kitchens, bathrooms, basements and home services throughout Northern Virginia. Their customers see them as a trusted partner, and MOSS is very proud that over 85% of their customers consider themselves 'customers for life.' Moss Building & Design has won consumer awards from Angie's List for five consecutive years and also has an A+ rating from the Better Business Bureau as well as many industry building and design awards.