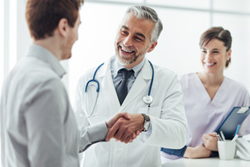 thebigword is fast becoming the preferred partner for language services in NHS Trusts around the United Kingdom.
Leeds, UK (PRWEB UK) 11 August 2017
In a stream of new contracts, global language service provider thebigword is being chosen by more and more NHS Trusts to provide translation and interpretation services.
Being a patient in hospital can often be a daunting experience, but imagine not being able to understand what your doctor is trying to tell you. Interpreters break the communication barrier and allow patients and their families full knowledge of what is happening. thebigword linguists will assist doctors, nurses and other NHS staff when treating and communicating with patients and their families who have additional language needs.
In recent weeks, Milton Keynes University Hospital NHS Foundation Trust, Buckinghamshire Healthcare NHS Trust, Gloucestershire Hospitals NHS Foundation Trust and Liverpool Women's Hospital NHS Foundation Trust have all chosen thebigword to support them in their language service needs.
thebigword is the largest interpreting services provider in Europe and works with a range of major Government departments, including the Ministry of Justice, NHS Trusts and the NYC Department of Education, as well as blue chip companies and brands on a global scale.
thebigword handles 400,000 face-to-face interpreting bookings a year, more than 1 billion telephone interpreting minutes in more than 256 Language combinations and thebigword is also launching a new video remote interpreting service.
Founder and CEO of thebigword Larry Gould said: "Communicating accurately with patients is a necessity and I am thrilled that we are able to provide a high quality service to more and more NHS Trusts. With thousands of qualified linguists, we pride ourselves on a fast and accurate service.
"thebigword is fast becoming the preferred partner for language services in NHS Trusts around the United Kingdom."
For more information visit: http://www.thebigword.com