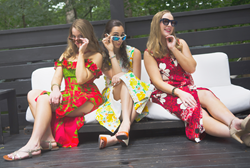 Do you treasure uniqueness, quality and history instead of our mass-market, throwaway culture? Then you are Livin' La Vida Vintage With MadgesHatbox!
Atlanta, Georgia (PRWEB) July 21, 2017
MadgesHatbox Vintage launches their summer collection of one-of-a-kind vintage fashion, jewelry, hats and accessories at Shop.MadgesHatbox.com.
"We are so excited about this summer lookbook," said Pamela Lappin, owner of MadgesHatbox Vintage. "This is the first time we have photographed on the street instead of in the studio. It was really fun to be working with Stefan Walker, an emerging fashion photographer in Atlanta, plus all of our fabulous models. This lookbook distills our philosophy of looking beyond brands and fads to create a personal style. We encourage our customers to mix decades, designers and colors to create their unique look."
MadgesHatbox Vintage is an online shop featuring vintage fashion, vintage jewelry, vintage hats and other accessories for men and women. MadgesHatbox also carries a curated collection of gently used designer consignment pieces. Our philosophy differs other vintage shops because we encourage our customers to move past specific period looks to combine pieces that encompass their own unique style.
To view our summer lookbook please go to Shop.Madgeshatbox.com.
Follow us:
Instagram: https://www.instagram.com/madgeshatboxvintage/
Facebook: https://www.facebook.com/MadgesHatbox/
Twitter: https://twitter.com/MadgesHatbox
G+: https://plus.google.com/u/0/+MadgesHatboxVintage
About MadgesHatbox Vintage
MadgesHatbox was founded in 2005, by Pamela Lappin, as a quality, online source for authentic vintage jewelry, vintage hats and vintage fashion & accessories. MadgesHatbox is for those who start trends rather than follow them, who treasure uniqueness, quality and history instead of mass-market, throwaways.
About our name: MadgesHatbox is named after the founder's grandmother Madge Beals Meredith who in 1917, moved from a quiet Kansas farm town to a wild and wooly railroad stop in Mississippi to seek her fortune making hats. Read her story here: http://madgeshatbox.com/finding-madge-a-granddaughers-journey/
About Stefan Walker Photography
https://www.instagram.com/stefan_wahn