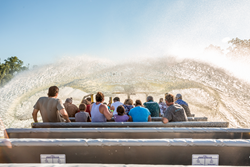 A jet boat tour combines an ideal location with history, local stories & natural beauty along with a specially designed boat that is capable of thrilling maneuvers
Branson, MO (PRWEB) July 21, 2017
A whole new lake tour has arrived in the Ozarks--Branson Jet Boats is the first tour of its kind in the area. A jet boat tour combines an ideal location with history, local stories & natural beauty along with a specially designed boat that is capable of thrilling maneuvers along the way that combine to make one unbelievable adventure in Branson.
Leaving from their dock at the Branson Landing, each tour lasts an hour taking riders on a journey down Lake Taneycomo and back, a 14 mile round trip. Along the way a US Coast Guard licensed captain tells you about local lore, info on wildlife & nature along the lake and the history of how this area came to be one of the most popular tourist destinations in the country. But that's not all. When the boat reaches the open lake it cruises at speeds up to 35 mph and performs exciting maneuvers including 360 spins, slides and bow dunks (where the Jet Boat gets up to speed then cuts & reverses the throttle, dropping the front of the boat down and giving a good splash to the first few rows). Because it combines entertainment, information, and spectacular surroundings it is quickly becoming one of most popular new adventures in town.
These adventures wouldn't be possible without the specially designed boat, The Cyclone. Powered by Three 400 HP Ford Raptor Engines there is plenty of power ready at a moment's notice to give the up to 65 passengers a thrilling ride. This power is coupled to Three Hamilton Jets for propulsion. The boat also has a specially designed hull which when combined with the jet propulsion system is able to travel in much shallower waters, produces a smaller wake than comparably sized boats, and is able to slide across the water and do the many maneuvers that the visitors love.
Each Jet Boat passenger is carrying on a tradition that started over 100 years ago on the White River before Lake Taneycomo was formed by the hydroelectric dam built on the River. At that time passenger boats began taking day cruises from where the Branson Landing stands today down river to the towns of Forsyth and Rockaway Beach and visitors from all over the world began to come to the Ozarks, the early vanguard of today's nearly 8 million yearly visitors. The Ozarks have changed a lot in the last 100 years but Branson Jet Boats follows in a rich tradition by bringing passengers to where it all started, an exciting tour of Lake Taneycomo and an adventure riders will want to take home and tell their friends about.
Branson Jet Boats tickets are $29 plus tax per adult and $24 plus tax for children ages 3-11. Tours currently leave at 2pm, 4pm, and 6 pm daily and the latest tour schedules can be found at bransonjetboats.com. Tickets can be booked in advance online, over the phone at 877-441-3727 or in person at their kiosk at the Branson Landing, between Joe's Crab Shack and Saltgrass Steakhouse.
Branson's newest adventure has already made a splash both literally and figuratively and Branson visitors are encouraged to check out the newest and coolest thrill on the lake.