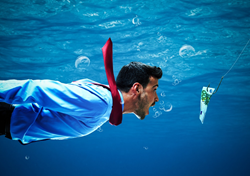 "All of the finalists have such creative business ideas. It's incredible to see successful companies before they make it big and I'm very excited to be apart of it," says Greene.
Las Vegas, Nevada (PRWEB) August 02, 2017
Every entrepreneur wants the chance to present their products to thousands of high net worth investors and a panel of sharks! That is exactly how The Pitch Tank came to fruition.
Last week, The Pitch Tank came to the Paris Resort in Las Vegas where twenty of the best entrepreneurs in the country competed for investor capital. Hosted by Greg Writer for the second year, this event was a collaborative effort by Mark Skousen, the founder of FreedomFest, and by Angel Investors Network, a nationwide network of angel groups and investors.
These twenty semi-finalists were chosen from hundreds of applicants, and each gave a five-minute presentation to the angel investors at the FreedomFest conference at the Paris Hotel. From there, 5 finalists were selected to make their pitch to the entire audience, answer questions about their business, and receive feedback from the sharks.
Preliminary judge, Seth Greene, America's Ultimate Marketing Magician, and host of The "Sharkpreneur" Podcast with Kevin Harrington, had a difficult time choosing which semi-finalists would move on to the next level. Some of Seth's favorites included: The Champions Basketball League, a hot new 5-on-5 pro summer league featuring experienced NBA players; NikkiLund, a fashion line that blends femininity, confidence & sex appeal; Vidbox Mexico, similar to Redbox intends to be the premier supplier in the DVD movie rental market in Mexico; and Organiponic Inc., a product that allows consumers to grow green leafy vegetables at home free of pesticides.
But out of all of these amazing companies, who took home the gold? The winner was Revive Solutions, a medical device company whose lead product is the world's first smart-phone powered Automatic External Defibrillators.
When asked about his experience judging at The Pitch Tank, Greene said, "All of the finalists have such creative business ideas. It's incredible to see successful companies before they make it big and I'm very honored to have been a part of it."
ABOUT SETH GREENE:
Seth Greene is a nationally recognized direct response marketing expert and the author of five best-selling marketing books. His latest book, "Market Domination for Podcasting" hit Barnes & Noble shelves last January.
As the founder of Market Domination one of the fastest growing direct response marketing firms in the country, he is the only person in history that Dan Kennedy has nominated for marketer of the year three years in a row.
Seth has been featured on real media like CBS MoneyWatch, CBS news, Inc magazine, The LA Times, The Boston Globe, The Miami Herald, and the #1 morning radio show in New York City.
To listen to his podcast, subscribe to SharkPreneur on iTunes.