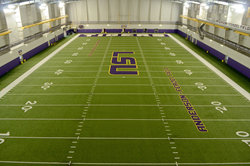 This new Shaw Sports Turf surface will allow the practicing athlete to have the best product and protection to better his performance activities.
Baton Rouge, Louisiana (PRWEB) July 20, 2017
The 100-yard LSU Indoor Practice Facility is a climate-controlled facility connected to the school's Football Operations Center. This summer, with support from the Tiger Athletic Foundation, the college will install a brand new Shaw Sports Turf surface.
The LSU Football Operations Center is an all-in-one facility equipped with a training room, equipment room, video operations center, outdoor turf fields, and indoor practice field. This state-of-the-art facility is unique to college sports and allows athletes and coaches more time for training and practicing. The indoor practice facility is an essential part of the center as it allows athletics to practice in inclement weather, which is why the field is getting a needed brand new turf field.
The LSU Indoor Practice Facility already featured a Shaw Sports Turf field, and returning to Shaw for a new field was seen as "a benefit to the program with Shaw's competitive pricing," said Emmett David, Tiger Athletic Foundation Project Manager. "This new Shaw Sports Turf surface will allow the practicing athlete to have the best product and protection to better his performance activities," said David.
For their indoor practice facility, LSU's athletic program chose to install 83,580 square feet of the Shaw Sports Turf Legion Pro System. Legion Pro is a combination of high-performance Bolt monofilament fibers and a durable slit film fiber. The slit film fiber is a workhorse which will handle the workload, while the monofilament provides a more resilient surface that enhances performance characteristics. The bolt shape creates a de-lustered look for a more natural appearance and no shine or glare under the lights, and also produces a stronger vertical axis for better ball control and fiber rebound.
The primary function of the indoor practice facility will be football practice, but the field will also be used for Pro-Day and multiple sports warm-ups. Construction is currently underway with installation to be completed by August 1st, 2017.
Wynn Vinson, Shaw Sports Turf Territory Manager, is excited to be continuing the relationship with the LSU Athletic Department and the Tiger Foundation. "They have selected a state-of-the art synthetic turf product and the latest and greatest in shock pad technology. This shows their commitment to excellence and the safety and performance of their student athletes," said Vinson.
ABOUT SHAW SPORTS TURF
A wholly-owned subsidiary of Berkshire Hathaway Inc., Shaw Industries is a full flooring provider to the residential and commercial markets. Shaw supplies carpet, hardwood, laminate, resilient, and tile/ stone flooring products, as well as synthetic turf. Shaw Sports Turf is one of the leading synthetic turf companies in North America and has represented quality and innovation for more than two decades with over 1,500 successful installations, including an impressive list of high-profile field installations. For more information please visit http://www.shawsportsturf.com, call 866-703-4004 or find us on Facebook.