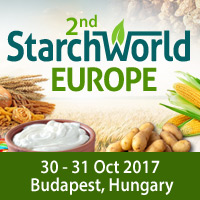 Eastern Europe's high potential starch and grain producing belt will be a key highlight at the summit.
Budapest, Hungary (PRWEB) August 08, 2017
Eastern Europe's high potential starch and grain producing belt will be a key highlight at the 2nd Starch World Europe summit. The region's top producer – Hungrana's CEO – Zoltan Reng delivers a Day 1 keynote speech on 'Starch and Sugar Production in the Heart of Central and Eastern Europe' – detailing value addition in Hungary's corn industry, domestic starch, sugar and corn market outlook.
The summit also weighs implications in the post sugar quota phase via sessions on – 'Levelling the Playing Field for European Starch Producers Post Quota' by Jamie Fortescue, MD, Starch Europe while 'EU Sugar Reform Impact on Beet Growers and Sugar Producers - the Dynamic Effects on Sugar and Isoglucose Markets' is presented by Ruud Schers, Analyst, Rabobank Group.
Delegates can get firsthand information on starch production and processing activities in Europe from 3 top producers – ADM sharing its 'Focus and Perspective on the Global Starch Industry', Kall Ingredients on 'The New Starch Plant in Europe' and Amylco on its 'Project In Russia and Opportunities to supply the EMEA market'.
The program also features End Users' Perspectives from world's leading nutrition, health & wellness company – Nestrade (Nestle Group) sharing on the 'Evolving Role of Starch', Dulcesol on 'Responding to Market Needs for New Healthier Ingredients' especially innovations in bakeries and Limagrain Céréales Ingrédients detailing 'Functional Flours, Clean Label and Naturality'.
Other key presentations to look out for are:

Novel Enzymes that Can Produce New Generation of Starch Derivatives - University of Groningen
Overview on Clean Label – Will No Label Be Next? – Meijer Consult BV
Starch-Based Biomaterials Developments – BIOTEC
Isosorbide Projections & Developing Market Applications – Roquette Freres
Comparing Proteins from Corn, Potatoes & Wheat for Animal Feed Nutrition – Hamlet Protein
Organized by Centre for Management Technology (CMT), the event is endorsed by Starch Europe and sponsored by Hungrana. Exhibitors at the summit are Hungrana, Trislot and Krettek Separation.
Visit 2nd Starch World Europe website for more details. Or contact Ms. Huiyan at +65 6346 9113.