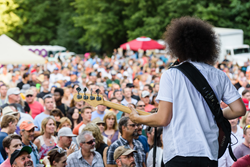 It's not every festival where you can join a funk band jam, learn Brazilian Samba drumming or get songwriting tips from an established artist.
Appleton, WI (PRWEB) July 21, 2017
Mile of Music, presented by Tundraland, is returning to Appleton for its milestone fifth year from August 3-6 and will welcome 225 artists to perform at 70 downtown and riverfront venues. As festival organizers make final preparations in the next two weeks, they are focused on sharing the opportunities for exploration and discovery that abound at Mile 5.
To spread the word about Mile 5 happenings, the festival is utilizing its website, which is designed and maintained by Stellar Blue Technologies. Visitors can go online for everything from reviewing the four-day schedule of events and reading up on artist bios to finding information on Music Education events. The website connects to all of the festival's social channels and is being regularly updated with the latest news, blog posts and media coverage related to the music festival.
In addition to the Mile of Music website, the festival also offers a downloadable app developed by the team at Skyline Technologies to help visitors tailor their experience. The latest version will give users the ability to preview artists' music and customize a schedule based on their favorite acts.
"There is so much exciting stuff that will be happening over the course of four days at the festival, and we want visitors to have quick, easy access to all of it," said Dave Willems, Mile of Music co-founder and marketing executive. "The website is an information-packed resource and the festival app serves as a handy way to get a real-time look at who's playing, who's coming up and where to head next."
Mile of Music continues to be an event where people can explore new music as it is a cover-free zone that showcases artists' original work. The line-up is set to include 900-plus live performances this year, with genres ranging from pop/folk, Americana/roots and bluegrass to indie and funk rock. There are many local acts scheduled to appear as well as soloists, duos and full bands traveling from as far as Nashville, New York, Los Angeles, Ontario and Paris to play.
Beyond listening to the music at Mile 5, visitors are also encouraged to get in on the music-making. The Music Education Team will be back with dozens of hands-on workshops, jam sessions and other experiences that allow attendees to experiment with instruments, song and dance.
"Since its first year, Mile of Music has put a big emphasis on music education to encourage more interaction," Willems said. "It's not every festival where you can join a funk band jam, learn Brazilian Samba drumming or get songwriting tips from an established artist."
In addition to the scheduled shows and education events, festival attendees can also add some spontaneity to the mix. The Mile of Music bus will be running all weekend with live, on-board performances from many artists, and there will also be pop-up performances throughout the one-mile stretch.
Mile of Music performances are free to attendees. Music-Makers Badges are available and allow entry to a select number of exclusive shows and also provide other festival and year-around perks.
About Mile of Music
Mile of Music is an artisan, original music festival that began in August 2013, bringing more than 200 bands and solo artists to Downtown Appleton each summer to perform nearly 1,000 live music sets over four days. The collaborative event was co-founded by Appleton marketing executive Dave Willems and Appleton-based national recording artist Cory Chisel, with support from nearly 100 community organizations and sponsors and more than 300 volunteers. For more information, visit http://www.mileofmusic.com.