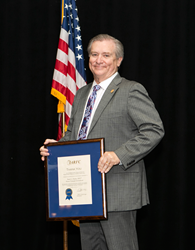 In choosing Charleston, SC as their conference venue, Money Concepts event organizers brought together an environment where continuing education, low country southern hospitality and family fun time merges...IARFC Chairman H. Stephen Bailey
Middletown, OH (PRWEB) July 21, 2017
Founded in 1979, Money Concepts has consistently delivered professional services fulfilling the standards of education, examination, experience, ethics, conduct, licensing and continuing professional education that is a requirement for designations from the IARFC. They hold in high esteem the ethical responsibility to advisors and the clients they serve.
"Money Concepts is a Broker/Dealer that exemplifies a positive and progressive presence in the Financial Services Industry," commented Bailey "Their commitment to family values and work ethic is impressive. They remind us of what our priorities should be."
In addition, Money Concepts Executive Vice President Barry Dayley, RFC® was given recognition for his service on the MRFC Certification Board that is working towards accreditation of the Master Registered Financial Consultant credential. The application has been submitted to the NCCA (National Commission for Certifying Agencies) and the IARFC home office is waiting for the decision which should be forthcoming in August.
As part of the Financial Planning Congress, members of the IARFC Team Wendy Kennedy, Susan Cappa and Chairman Bailey were out in force greeting MRFCs and RFCs and giving out information to prospective financial consultants who have met the requirements to obtain the designation.
"Meeting members at the IARFC booth was a positive connection," relates Susan Cappa, Public Relations. "It gave us the opportunity to update the exciting events happening at the IARFC, namely our 2018 Biltmore Conference in Asheville, NC."
In choosing Charleston, SC as their conference venue, Money Concepts event organizers brought together an environment where continuing education, low country southern hospitality and family fun time merged. "I applaud them for the superb choice of city," noted Bailey. Bonding between consultants and their families is a priceless experience."
To learn more about the IARFC Association, the MRFC, RFC and RFA designations and the 2018 IARFC Biltmore Conference, in April – visit http://www.iarfc.org.