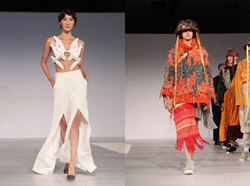 Hong Kong (PRWEB) July 21, 2017
The fashion show featured the collection of outfits designed by ten graduating students studying the Master of Arts in Fashion and Textile Design. Each student presented their original collection of six outfits under their chosen themes, which demonstrated their innovation and creativity.
As the sole institute providing taught post-graduate programme in fashion and textiles in Hong Kong, ITC offers interesting and exciting opportunities to those who wish to pursue a career in the dynamic fashion and textiles industry. Since its inception in 1957, ITC has been committed to educational training and development for the advancement of Hong Kong's fashion and textile industry through various research and scholarly activities.
*****
Press contact : Miss Anne Hon, Marketing Manager
Institute of Textiles and Clothing
Telephone : (852) 2766 6463
E-mail : anne.hon(at)polyu(dot)edu(dot)hk