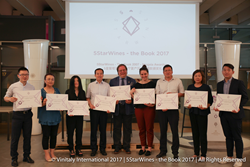 "We will have many occasions to work together, especially to elevate the level of Italian wine education and introduce more of Italy's high quality wines", confirms Mr. Jianjun Feng Deputy Director General of Ningxia Wine Bureau.
Verona, Italy (PRWEB) July 24, 2017
Vinitaly International and Ningxia Wine Bureau, the fastest growing wine region in central China, have agreed to join forces with the aim of delivering high quality Italian wines to China and rolling out educational courses on Italian wine. In June, Vinitaly International welcomed delegates from Ningxia Wine Bureau at its headquarters Wine2Digital in Verona, Italy and facilitated meetings with VeronaFiere and various wineries around the area.
Situated 1000km west of Beijing right beside the Gobi desert in central China, Ningxia is a wine region progressively gaining international reputation as the "Bordeaux region of China." As a matter of fact, in recent blind wine-tasting competitions, Ningxia wines have done even better than Bordeaux wines in the same price bracket. In the past 7 years, the region has experienced rapid development in wine making and the numbers of wineries have soared from 20 to 80.
Last December, Stevie Kim Managing Director of Vinitaly International visited Ningxia and 8 wineries. Since then, the relationship has increasingly become important for both sides. During Vinitaly 2017, Vinitaly International facilitated a first time ever masterclass on Ningxia wines held by Dr. Ian D'Agata, Scientific Director of Vinitaly International Academy (VIA) and Jinglin Zhang, a VIA certified Italian Wine Expert. Showcasing the diversity and potential of the region's red, white, and sparkling wines, along with the famous Bordeaux Blend style reds; 12 different labels in total, it attracted more than 40 international journalists and professionals in the wine trade. In addition, Ningxia Wine Bureau organized its first ever stand at Vinitaly. This marked its first ever participation to an international wine fair.
Needless to say, Ningxia wines were also highly recognized during the 3 day selection of wines for 5 StarWines - the Book 2017 among the panel of judges made up of highly internationally qualified experts. 16 labels met the expectations of the judges and were given high points (See PDF below). The delegates were able to receive the diploma directly from Dr.Agata, at wine2digital during their recent visit. Additionally, Vinitaly International inaugurated the Ningxia Wine Bureau Cabin, a room dedicated to showcasing Ningxia wines at wine2digital, which includes an eno-dispenser where the wines can actually be tasted. As the international hub for wine professionals, wine2digital will be able to facilitate many opportunities to introduce Ningxia wines to wine professionals all over the world. Furthermore, the collaboration between the two will also center on educational initiatives focused on Italian wines in China.
"We are extremely honoured to strengthen our relationship. Vinitaly International has showed continuous commitment not only to the Chinese market but also to embracing the wine producers of China. We will have many occasions to work together, especially to elevate the level of Italian wine education and introduce more of Italy's high quality wines", confirms Mr. Jianjun Feng Deputy Director General of Ningxia Wine Bureau.
For more details on the master course on Ningxia wine held during Vinitaly 2017:
http://www.vinitaly.com/en/events2017/calendar/wine2digital---palaexpo-entrance-a2-1st-floor/VIA-cina-ningxia/
About:
Veronafiere is the leading organizer of trade shows in Italy including Vinitaly (http://www.vinitaly.com), the largest wine and spirits fair in the world. During its 51th edition Vinitaly counted more than 4,270 exhibitors on a 100,000+ square meter area and 128,000 visitors from 142 different countries with more than 30,000 top international buyers (up by 8%). The next edition of the fair will take place on 15 - 18 April 2018. The premier event to Vinitaly, OperaWine (http://www.operawine.it) "Finest Italian Wines: 100 Great Producers," will unite international wine professionals on April 14th in the heart of Verona, offering them the unique opportunity to discover and taste the wines of the 100 Best Italian Producers, as selected by Wine Spectator. Since 1998 Vinitaly International travels to several countries such as Russia, China, USA and Hong Kong thanks to its strategic arm abroad, Vinitaly International. In February 2014 Vinitaly International launched an educational project, the Vinitaly International Academy (VIA) with the aim of divulging and broadcasting the excellence and diversity of Italian wine around the globe. VIA this year launched the fourth edition of its Certification Course and today counts 92 Italian Wine Ambassadors and 7 Italian Wine Experts.