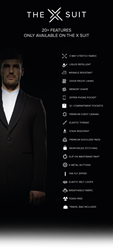 We wanted a flexible, versatile and zero-maintenance suit, since our lives are fast-paced and our clothes shouldn't restrict us.
SHANGHAI, CHINA (PRWEB) July 21, 2017
Active young professionals and travelers around the world are joining the X SUIT revolution. The stain/liquid-repellent, odor- and wrinkle-resistant fashion innovation raised over $362,000 on Kickstarter and it is now available at $100 below retail prices on Indiegogo InDemand.
The X Suit is the world's first full-stretch suit loaded with features that will forever change the suit as we know it.
The X Suit is a traveler's dream: it can be literally stuffed into a carry-on bag, while its wrinkle defense technology and stretch material ensures the suit springs back into shape with just a shake. Think about the last time a traditional suit stood up to long hours at an all-day or multi-day meeting. The X Suit matches the modern man's endurance level, even warding off odors late into an entrepreneur's day -- or into the night, when the office gives way to a restaurant or club.
X Suits' inner lining has been specially paneled with X Membrane® to Neutralize Odors and keep it smelling fresh. Each fiber in the lining attracts, isolates, and neutralizes odors immediately, and with quick dry capabilities, keeps sweat stains to a minimum.
"We wanted a flexible, versatile and zero-maintenance suit, since our lives are fast-paced and our clothes shouldn't restrict us," said X Suit designer Max Perez. "It also makes a great first suit for young men, since the material repels spills and stains."
A sport version of the X Suit even comes with a rainproof hood. The X Suits' X Shield® technology keeps it looking sharp and clean. Simply pouring water over any stain will cause it to roll off the fabric. (see video)
The X Shell Fabric is equipped with four-way stretch capabilities and an elasticized lining, which allows the wearer to experience a full range of motion unattainable in a traditional suit. The added Tensile Thread allows the suit's seams to move with the garment, adding durability.
X SUIT features include:
12 discreet pockets for specific functionality
Wrinkle-free and easily packable – perfect for corporate travel
Phone compartment holds any size phone
Modern yet classic design
Four-way stretch fabric with shape retention
Elasticized, flexible waistband construction
Odor Neutralizing and Quick Dry Lining Liquid and Stain Repellent
Metal anodized buttons and zippers
Minimized maintenance and dry-cleaning
X Suit is an ideal choice for the young professional who wants to look sharp and modern, and the corporate manager who is looking for comfort. For more information and to take advantage of crowdfunding discounts, visit:
https://www.indiegogo.com/projects/x-suit-most-advanced-suit-with-20-plus-features-technology#/
About X SUIT
X SUIT was created by XYZ Group, which is based in Shanghai and run by Canadian brothers Max, Reouven and Nathaniel Perez. The Perez brothers are veteran apparel manufacturers with more than 30 years combined garment manufacturing experience. Their partner manufacturers have contributed to some of the world's most prestigious brands, including suits in the Hugo Boss, Calvin Klein and Zara lines. The team is highly skilled with technology applications and tailoring. XYZ Group and their manufacturing partners have spent more than two years creating and testing dozens of prototypes to arrive at the X SUIT design. They intend to continue to create smart, stylish and comfortable fashion for people on the go. Visit http://www.XSuit.com.