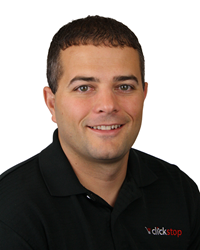 A shared services model eliminates the most common frustrations of a business owner by providing expertise and dependable resources.
Urbana, IA (PRWEB) July 21, 2017
Clickstop is transitioning to a shared services model as part of a new strategy to create an entrepreneurial environment where engagement drives growth and sustainability.
The Urbana-based company owns and operates a diverse suite of business units, with plans to announce two acquisitions in the coming weeks. US Cargo Control, its flagship business unit, accounts for nearly 85% of the company's overall sales, offering trucking and transportation products, lifting slings, rigging equipment and moving supplies, as well as specializing in manufacturing tie-down straps, cargo nets, chain slings and flatbed tarps.
Other business units include e-commerce retailers SpaceSavers, Just Plastic Boxes, EcoFoil and Fasteners Plus. Also in May, Clickstop launched its latest startup — Food Utilized to Energize Lives, or Fuel — a restaurant operating in part of a more than 53,000-square-foot building addition, recently completed at Clickstop's Urbana headquarters.
Each of those business units will now be led by a Business Unit Fanatic™ (BUF™) with support from shared services, such as information technology, talent acquisition, training, marketing, warehousing and shipping.
"Growing pains experienced by entrepreneurs are almost always related to resources and the number of people in their company," said Clickstop Founder and CEO Tim Guenther. "A shared services model eliminates the most common frustrations of a business owner (BUF™) by providing expertise and dependable resources.
"It gets rid of the need to manage a large number of people," he added. "BUFs™ are able to work 'on' the business more than they work 'in' the business and can be laser-focused on growing their specific business unit."
Guenther announced the revamped structure to employees last month, calling the move "a big leap forward" for the long-term success of both individuals and the business.
"This enables us to scale our organization while becoming innovative experts in multiple business functions and support small, medium-sized and enterprise-sized business units simultaneously," Guenther said. "We're committed to growing, growing profitably and reinvesting in our business and our team members through benefits, learning and development opportunities, and by sustaining our environment."
Changes are expected to be implemented over the next six to nine months, with additional employees hired as needed.
About Clickstop, Inc.
Clickstop, based in Urbana, Iowa, grows business units of different sizes, serving multiple industries and markets by employing Business Unit Fanatics™ and supporting these individuals through shared services. Clickstop drives business unit growth through alignment with its core values, an engaged workforce and sustaining an entrepreneurial environment designed to quickly and effectively navigate change. The company's Business Unit Fanatics™ grow businesses within Clickstop by effectively utilizing shared services provided within the organization. The company's reputation and commitment to great workplace culture and engagement has landed it multiple workplace-focused awards including multiple first-place finishes as the Coolest Place to Work in the region. For more information, visit Clickstop.com.
About US Cargo Control
US Cargo Control is a leader in the cargo control industry, specializing in cargo control, lifting slings, rigging equipment and moving supplies. With growing product offerings and a focus on innovation, the company is committed to offering quality products, timely delivery and an excellent customer experience. Expanding manufacturing capabilities and custom options further ensure customers get what they want, when they need it.