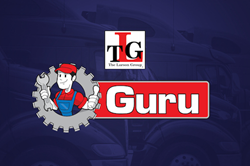 The Larson Group Peterbilt, an award-winning provider of commercial truck service, recently launched its TLG Guru Program to help truck and fleet owners monitor service updates and make repairs more quickly.
Springfield, Mo. (PRWEB) July 25, 2017
The Larson Group (TLG) Peterbilt recently launched its new 24-hour service program, TLG Guru, to provide customers with convenient over-the-road truck and fleet maintenance updates. By acting as a service advocate between fleet managers and dealerships, TLG Guru's service experts help drivers and managers reduce downtime and revenue loss alike.
TLG Guru: A Program That Puts Customers First
The new commercial truck service program provides as much convenience as possible for drivers and managers grappling with an emergency repair or other service need. With the ultimate goal of reducing time spent off the road (and subsequent revenue loss) for drivers, TLG Guru's advocates share timely repair updates between fleet managers, dealers, and truck body repair facilities. In addition, the program's experts can assist members in diagnosing repair priority and immediacy as well as help fleet managers monitor individual trucks through TLG's customized SmartLinq technology system.
Further benefits for program members include expedited repairs, direct parts delivery, and a stress-free check-in process.
"By offering TLG Guru as a benefit to our current and future customers, our technicians can think ahead of the game and diagnose a problem before the truck even gets to a service bay," said TLG Director of Service Paul Joplin. He continued, "We are committed to giving every driver the convenience of a shorter wait time, and we are very much looking forward to growing this new service for our customers."
Purchasing, Pricing and Enrollment
TLG's 24-hour service program offers technical and logistical support with a registration fee of just $9.95 per truck, followed by a $35 fee per service event. However, all pre-owned trucks purchased by TLG qualify for a 90-day free trial and all new trucks purchased from TLG are automatically registered at no cost as long as the truck is owned by the original customer. Individuals interested in enrolling can email guru(at)tlgtrucks(dot)com to get started or call 855-744-6800.
A Long-Standing Commitment to Customer Service and Offerings
The Larson Group's above-and-beyond commitment to providing first-rate Peterbilt service earned the company a "Best in Class Parts and Service Dealership of the Year" Award at 2016's PACCAR Parts and Peterbilt conference. What's more, TLG recently signed on to participate in a new partnership between its OEM manufacturer, Peterbilt Motors Company, and the National Joint Powers Alliance (NJPA) to provide bid-free Peterbilt truck purchasing for not-for-profit organizations and municipalities.
"Along with other Peterbilt Motors Company dealers across the nation, TLG's primary goal is to bring award-winning customer service and product availability to members of NJPA," said TLG Director of Medium Duty and Vocational Trucks Shawn Yancey at the time of the partnership announcement.
About The Larson Group Peterbilt
The Larson Group has been providing quality Peterbilt products and exceptional service across the Midwest and Southeast for 30 years. TLG has built teams of qualified, highly trained professionals to provide customers the best service for their commercial transportation needs at 18 Peterbilt facilities located across Arkansas, Illinois, Indiana, Kentucky, Missouri, North Carolina, South Carolina and Ohio.
For more information about The Larson Group's Peterbilt parts inventory or to experience its exemplary customer service first-hand, call 417.865.5355, visit TLGtrucks.com or contact Barbie Langston at blangston(at)tlgtrucks(dot)com.