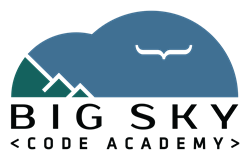 Data science is one of the fastest growing fields in the country and is faced with a significant talent shortage.
Missoula, MT (PRWEB) July 21, 2017
Big Sky Code Academy is excited to offer Montana residents and online learners everywhere, a Data Science boot camp that can be completed in 24 weeks for full-time students and 32 weeks for part-time students. The Data Science program is organized into two parts with the first segment focused on data analysis and second focused on machine learning. Graduates of this boot camp will be ready for entry-level data analyst and/or jr. data science roles.
In this program, students will gain experience in one of the fastest growing fields in the country, with some serious earning potential. According to Indeed.com, the average salary for entry-level data analysts in Montana is $55,000 with a national average salary of $60,000. For data scientists, the average Montana salary is $95,000, while the national average is $114,000.
Montana companies currently hiring professionals with this skillset include: Allegiance Benefit Plan Management, EDULOG, Wells Fargo, Billings Clinic, Sofi, Amica Solutions, Workiva, Zoot Enterprises Inc., Kalispell Regional Healthcare, World Wildlife Fund, Advanced Technology Group and Open Systems Technologies.
On top of great earning potential, is high demand. According to a recent study by the McKinsey Global Institute,
"there will be a shortage of talent necessary for organizations to take advantage of big data. By 2018, the United States alone could face a shortage of 140,000 to 190,000 people with deep analytical skills as well as 1.5 million managers and analysts with the know-how to use the analysis of big data to make effective decisions."
As part of their mission to bring tech education to rural communities in Montana and the greater Intermountain Region, Big Sky Code Academy plans to answer this shortage with highly qualified graduates from their Data Science boot camp, which starts September 25, 2017.
As companies generate and store more data digitally, being able to extract meaningful and accurate conclusions on things like customer behavior is critical. For professionals interested in learning how to use data to make better business decisions, part one of the program is the perfect opportunity, while part two of the Data Science boot camp is focused on machine learning, which will help students unlock the full potential of Big Data and get into more sophisticated predictive analysis tools.
To provide Montanans with the best the industry has to offer, lead instructors, Carl Fahlstrom and Sean Corbett researched the top Data Science programs in the country, across the online boot camp and collegiate spaces, and relied on their collective educational experiences from Montana State University and the University of Montana. Corbett holds a B.A. in English from University of Montana and is completing his final semester of both Computer Science and Mathematics at the University before completing his Physics degree. Corbett's mission is to help students develop an intuitive understanding of the core computational concepts underlying the technologies behind modern web development, marrying formal computer science with cutting-edge tools and techniques.
Fahlstrom, a software engineer, holds a PhD in Physical Chemistry and has spent over five years developing data analysis tools in Python, with two years in web application development, and over 12 years of experience in optical spectroscopy and computational sciences. Both Corbett and Fahlstrom share a passion for teaching and enjoy helping students realize their aptitude for technology no matter their former background, education or experience.
To learn more and to join the Data Science boot camp offered at Big Sky Code Academy this fall, September 25th, contact Admissions Director, Scott Barbian. Scholarships and payment plans available.