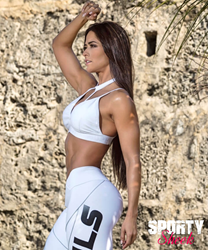 Strong & Beautiful
Yorba Linda, California (PRWEB) August 12, 2017
Sporty Sheek is once again looking to establish their brand as a big name in women's fashion. They are soon to launch their latest and best collection featuring only the most fashionable fitness outfits of gym tops and exercise pants—all designed for the sophisticated woman with an active lifestyle.
The Advocacy
The clothing brand was founded with the goal of helping women of all shapes and sizes to get motivated into realizing the best versions of themselves. They knew that this can only be possible if a woman took the time to focus on herself and aim for a sound mind and a healthy body.
To help her achieve this, Sporty Sheek has come up with the best women's fashion clothing pieces that will surely make her feel great about her body and inspire her to take better care of it, all while looking the part. And as the CEO of the company says it, this of course is "because when you feel good and look good, you spread the cheer."
The Fashion
Sporty Sheek has, therefore, come up with clothing items that are designed to provide the most suitable fit and comfort for the woman with an active lifestyle—while at the same time making sure that she constantly looks great.
Their clothing line, therefore, is a specially curated mix of fashionable pieces with the best cuts and the most intricately planned details to emphasize the different curves and edges of the female physique. This also means different color hues that range all the way from soft, sensual shades to strikingly bold contrasts. These are stylish and flexible pieces of clothing that look fabulous in the gym but that can also easily be a girl's next go-to outfit for the club, or even mixed-and-matched with other pieces to match her general milieu.
The Technology
To ensure that the clothes give women the support that they need, Sporty Sheek only uses the smartest technologies. This means gym tops and pants with compressive properties to ensure support and aid for muscle recovery while at the same time providing the flexibility needed for movement. For added comfort, they also only use fabrics of lightweight, breathable materials that provide ample moisture absorption for sweat and odor resistance—all with the guarantee of a good quality that is sure to make the pieces last long without much shrink and fade.
About Sporty Sheek
Sporty Sheek started out in 2015 and have so far released several lines of women's wear—including, but not limited to, gym tops and pants, tank tops and shirts, lingerie, and even bags and shoes. They are online at https://www.sportysheek.com/ and are easily accessible over their listed social media accounts.
Dare to be inspired to be "Strong and Beautiful"