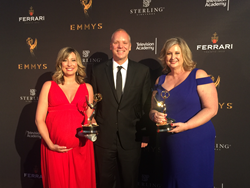 Los Angeles, California (PRWEB) July 22, 2017
PBS SoCal KOCE, the home to PBS for Greater Los Angeles, has been honored with two Los Angeles Area Emmy® Awards by the Academy of Television Arts & Sciences. The winners were announced at the 69th Los Angeles Area Emmy® Awards presentation on Saturday, July 22 at the Saban Media Center in North Hollywood. The Los Angeles Area nominees were selected by national and Los Angeles-area Peer Group active members within the Television Academy.
"We're delighted to be recognized by the Los Angeles members of the Television Academy for the content we are producing locally and in partnership with independent producers," said Andrew Russell, PBS SoCal President and CEO. "We strive to deliver high quality programming that informs and inspires our audiences, and that tells stories that aren't being told elsewhere."
PBS SoCal Los Angeles Emmys include:
Best History/Culture Programming
Bill W.: The Creative Force Behind Alcoholics Anonymous
Brenda Brkusic, Executive Producer
Kevin Hanlon, Producer
Dan Carracino, Producer
Dahlia Kozlowsky, Co-Producer
Michelle Merker, Associate Producer
Produced in partnership with Page 124 Productions
Best Independent Programming
To Climb a Gold Mountain
Alex Azmi, Executive Producer
The complete list of Los Angeles area Emmy Awards is available at http://www.emmys.com/la.
About PBS SOCAL:
PBS SoCal KOCE is the home to PBS for Greater Los Angeles and Southern California. We deliver the full schedule of PBS programs plus content that is for, about and by the people of Southern California. Our content is available free through four broadcast channels, at pbssocal.org, on our mobile apps, and via connected TV services. And we provide the community with early education resources and cultural and educational experiences through partnerships, events and grassroots outreach. PBS SoCal has offices in Century City, Costa Mesa, and Los Angeles. Connect with us at pbssocal.org Facebook, Twitter and Instagram.