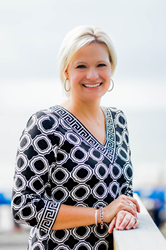 "One of the main things I've learned over the years is that when you're passionate about what you sell, and highly knowledgeable about your product, you're going to achieve great results."
NORTH MYRTLE BEACH, SC (PRWEB) August 04, 2017
Condo-World, a leading provider of Myrtle Beach vacation rentals and golf packages, announced today that Heather Royer will be joining the company as Golf Sales Manager. Royer will be responsible for directing the growth of Myrtle Beach Golf Vacations, Inc. (a division of Condo-World) by expanding sales and marketing initiatives, identifying new strategic partnerships and enhancing relationships with area golf courses.
"We are delighted to welcome Heather to our team. Her extensive knowledge of the game and experience in the golf industry is second to none. Heather will work closely with Jean Nixon, veteran Golf Director for Condo-World, Alex Husner, Chief Marketing Officer, Ben Clyburn, Director of Operations and our team of golf specialists to streamline current processes and pursue new revenue opportunities. She will be an asset to Condo-World as we continue to grow our golf and vacation rental operations in the Myrtle Beach area and beyond", says Roy Clyburn, President and CEO of Condo-World.
An avid golfer, Royer's passion for the game can be seen both on and off the course. Her golf roots trace back to suburban Pittsburgh, where she became the first girl to play on the high school men's varsity golf team. This led to a full golf scholarship to Charleston Southern University, and then the beginning of a career as an agent for dozens of the most well known names in the professional golf arena. In 2007, she and her husband, former PGA Tour Player Hugh Royer III, moved to Myrtle Beach to start their own golf academy. In 2012, Heather began working as a Golf Director and found a new passion - using her encyclopedic knowledge of Myrtle Beach to help golfers plan their ideal vacation to the Golf Capital of the World.
"I'm thrilled to be joining Condo-World as their Golf Sales Manager", said Royer. "One of the main things I've learned over the years is that when you're passionate about what you sell, and highly knowledgeable about your product, you're going to achieve great results. Condo-World has been a longtime leader in the Myrtle Beach golf industry and I look forward to joining such a strong, dedicated and accomplished staff."
About Myrtle Beach Golf Vacations, Inc.
A division of Condo-World, Myrtle Beach Golf Vacations, Inc. (MBGolf.com) is one of Myrtle Beach's leading providers of golf packages and tee times. With the area's largest selection of vacation rentals and resorts, golfers are able to conveniently pair the courses they want to play with the perfect accommodations to fit the needs of their group. Visit MBGolf.com for more information.
About Condo-World
Founded in 1985 by Roy Clyburn, Condo-World represents more than 400 privately owned luxury oceanfront condos and beach homes in North Myrtle Beach, and is an online distribution channel for 21 resorts and rental companies throughout Myrtle Beach as part of the Condo-World Resort affiliate program. Condo-World is committed to being the preeminent vacation rental company in the Myrtle Beach Area through superior performance in each vital business discipline, including friendly and courteous customer service; through quality accommodations and continuous improvement; and by empowering it's employees always to act in the best interest of our guests. The fulfillment of this mission is intended to enrich, in all ways, its customers, employees and their families, homeowners, shareholders and the community in which it operates. Visit Condo-World.com for more information and connect on Facebook, Instagram, Twitter, LinkedIn and YouTube.