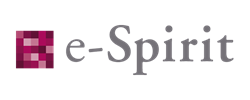 "Partnering with e-Spirit allows us to offer our clients a digital experience hub and content management system with unrivaled integration capabilities with leading e-commerce platforms, including Salesforce Commerce Cloud..." - CEO, Building Blocks
Boston, MA (PRWEB) July 24, 2017
e-Spirit Inc., maker of the FirstSpirit Digital Experience Hub, today announced plans to significantly expand and strengthen its partner program on a global basis and is aggressively seeking both implementation and technology partners. As the company continues to experience rapid growth, partners will play an increasingly important role in supporting customer implementations and technology requirements.
"We're entering the next phase in our partner program, one where partners are intimately involved in ensuring customer success on an ongoing basis," said Bob Cellucci, vice president of channels and alliance for e-Spirit. "Our message to potential partners – from agencies and service providers to best-of-breed technology suppliers – is that we are embracing a partner-centric model and are looking to expand."
To support the increased emphasis on partners, e-Spirit is in the process of implementing expanded partner training and certification programs among other operational enhancements designed to ensure partner success and profitability. A key goal is seamless coordination across partner and e-Spirit technical resources to deliver the best outcomes possible for end customers.
As the provider of the FirstSpirit digital experience hub, e-Spirit has a long track record of successfully working with other best-of-breed suppliers to give customers flexible and agile technology integrations precisely tailored to their content needs. For example, in the retail industry e-Spirit is tightly integrated with Salesforce Commerce Cloud and recently announced a partnership with Samsung SDS to jointly offer digital signage solutions.
"Partnering with e-Spirit allows us to offer our clients a digital experience hub and content management system with unrivaled integration capabilities with leading e-commerce platforms, including Salesforce Commerce Cloud. Together, we are helping leading organizations to create engaging e-commerce experiences which can be scaled globally," said Jasper van de Luijtgaarden, CEO, Building Blocks.
"Content is the engine that drives personalized omnichannel digital experiences that more and more companies are looking to deliver for their customers," Cellucci added. "We see considerable opportunities in the omnichannel space to expand the role of content, not only in retail but in many other segments such as financial service, banking, manufacturing and others."
The increased emphasis on partners comes at a time in which e-Spirit is experiencing the largest year-over-year growth in the company's 18-year history with a notable 50 percent increase in the size of its North American customer base. To learn more about e-Spirit's partner program offerings, please visit http://www.e-spirit.com/us/partners/.
About e-Spirit
e-Spirit™ – maker of the FirstSpirit Digital Experience Hub – helps businesses engage customers and drive revenue with content-driven digital experiences anytime, anywhere. Savvy digital marketers across all industry sectors rely on the unique FirstSpirit platform for personalized content delivery across all channels that differentiates their companies and compels customers to action no matter where they are.
Founded in 1999, e-Spirit operates in 16 locations in the United States and Europe. Clients include L'Oréal, Lancôme, s.Oliver, Commerzbank, Airbus, BASF, Bosch, Belk, ECCO, Urban Decay, Olympus, Santander Bank, and Sterling Jewelers. For more information, go to http://www.e-Spirit.com or call us at 781.862.5511.