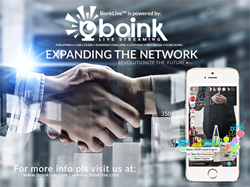 New York New York (PRWEB) July 23, 2017
http://www.boinklive.com (BonkLive Mobile Application) Google play market for android and apple iOS will finally Launch its newest version of the BonkLive Mobile Broadcasting platform before the end of July 2017 in the Apple app store. Boink Live Streaming New York, announced the release of its mobile broadcasting application for android in Google play store 4 weeks ago and has been continuously updating the BonkLive platform with cool upgrades and new features. The BonkLive Application has its own artificial Programing intelligence including proprietary Licenses with Wowza which includes 14 keys for the BonkLive streaming engine platform. Additionally, Bonk Live uses (AWS) Amazon Web Services which provide a smooth transition to servers globally for BonkLive 24-hour Mobile Streaming Broadcast service.
John Lamb, C.E.O, said, "We are very pleased to finally be able to launch our BonkLive Apple version this week for broadcasting as we will now be able to provide both android and apple users a streaming mobile application tool that will let them have more fun, make more money and will truly bring big results and revenue for everyone using the application."
IDAP is one of the developers for the BonkLive project working for the Boink Live group of Companies, including Boink Live Streaming Companies in Bucharest Romania, Ukraine, New York, Dubai, Philippines, Indonesia, Hong Kong and England. All of the companies have been using an integrated development environment (IDE) which is also being used on the Wowza software application that provides comprehensive facilities for our computer programmers, developers and engineers for software development for Bonk Live mobile application. Wowza is the platform being used for Bonklive which consists of a source code editor, build automation tools and a debugger with a platform to hold the source codes and its artificial programing intelligence.
Bonk Live Revenue Capabilities 3 billion per year
The type of revenue earned on the Bonk Live Broadcasting Application is:

Virtual Gifts
10-minute Logo advertising
(PPP) Pay Per Press
Slide advertising
Video advertising
Bonk Live debit card
Bonk Live monthly and yearly VIP membership
Boink Live streaming owns the BonkLive Mobile broadcasting application in partnership with Pioneer shareholders who own 20% of the company valued at over $750,000,000 million United states Dollars. It is the company's plan to pay shareholders of the private company, Boink Live streaming, dividends from all the net profit from all income sources every quarter.
Josh Flynn, vice president of Marketing and a Boink Live director said, "We have designed BonkLive to handle a colossal load of broadcasters. The complex issues related to streaming, managing, and the recognition of the entire system process including updates and building new features has been kept easy to implement and use."
Bonk Live streaming helps broadcasters grow by sharing the revenue with the streamers. The reason Bonk Live delayed its Apple version is they needed to create a cash out system outside the application. Bonk Live now provides a cash out system with cool features that will grow the company Revenue and its Broadcasters Revenue with real-time stats, insights, and graphs, while using the application offsite web page to cash out their revenue.
Bonklive is now actively looking for influencers and people who have big fan bases to use the bonk application for making money and having fun online.
The BonkLive technology just works!
https://www.facebook.com/profile.php?id=100018694235139
https://www.facebook.com/BonkLiveStreamingApps/
https://www.facebook.com/BONK-LIVE-Ltd-856767331125348/
https://www.facebook.com/bonk.live
https://www.facebook.com/profile.php?id=100018694235139&fref=nf
Website: http://www.boinklive.com
Website: http://www.bonklive.com
About Boink Live streaming: Bonk Live is owned by Boink Live Streaming and is the next big digital platform for social influencers and content creators to share their talents with the world, and an advertiser dream-come-true for reaching their target audiences. Anyone can use the BonkLive streaming application to showcase his or her talents and earn money in the process. From celebrities, social influencers, athletes, to everyday people Bonk Live offers an opportunity for users to generate income through its creative advertising strategies.
BonkLive is like having Live me, BigoLive, Facebook, snapchat, and WhatsApp all working together on steroids while broadcasting, selling, and advertising products worldwide. The steamers are broadcasting and making money while the viewer's watching the live broadcasters are taking offers to buy products.
This press release contains forward-looking information within the meaning of Section 27A of the Securities Act of the 1933 and Section 21E of the Securities Exchange Act of 1934, and is subject to the safe harbor created by those sections.