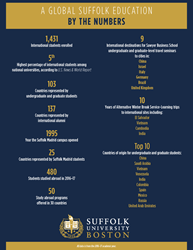 Our global diversity is an integral part of Suffolk's vibrancy. There are tremendous benefits to the international experience for students who come from abroad, but also for domestic students.
Boston, Massachusetts (PRWEB) August 14, 2017
Suffolk University today announced that it has formed a separate entity with INTO University Partnerships to build on Suffolk's standing as a premiere destination for international students and to further deepen the global experience on campus.
INTO is a private global education company that helps universities expand international recruitment and ensures international students' success on campus through proven integration programs that better acclimate them to the academic community. Suffolk has entered into a long-term agreement to form INTO Suffolk, LLC, a jointly owned limited liability company under the guidance of a six-member board of directors representing both organizations.
At the core of INTO Suffolk are Pathway programs that blend academic preparation and intensive English-language training to prepare students for the rigors of a Suffolk University degree program. The one-, two- or three-semester programs are designed to ease an international student's transition to a new country and educational system, improve English skills and fulfill certain academic coursework requirements for their intended major or degree program.
The Suffolk-INTO collaboration will expand Suffolk's global reach through INTO's broad network of relationships and recruitment staff in more than 75 countries around the world.
Suffolk is a top destination for international students and ranked fifth in the nation among national universities for international students as a percentage of total student population, according to U.S. News & World Report's 2017 Best Colleges rankings.
The venture speaks directly to Suffolk's mission of access and opportunity while, at the same time, addressing head-on the real-world necessity of increasing students' exposure to a broader range of cultures and perspectives, said Suffolk University Acting President Marisa Kelly.
"INTO shares our deep commitment to strong academic programs — Pathway programs that prepare international students for the rigors of a Suffolk education and increase the prospect of educational success as students move through them," Kelly said. "Our global diversity is an integral part of Suffolk's vibrancy. There are tremendous benefits to the international experience for students who come from abroad, but also for domestic students. Exchanging ideas and perspectives with peers from around the world is educational in itself — and a window into the realities of a truly global economy."
The new venture is designed to help Suffolk respond to vast and growing international demand for global higher education. By 2025, more than 8 million students will want to study outside of their home countries, an increase of nearly 6 million students since 2000, according to the Organization for Economic Co-operation and Development's Education at a Glance. International students studying in the U.S. contributed $32.5 billion to the economy in the 2015-16 academic year, according to NAFSA: Association of International Educators. And students from abroad contributed $2.3 billion to the Massachusetts economy in the 2015-16 academic year. Suffolk international students contributed $79.4 million and supported more than 1,100 jobs, according to NAFSA. International graduates of Suffolk and other universities throughout the area also play an integral role in Boston's innovation economy.
Commenting on the news, John Sykes, cofounder of INTO and executive vice president, said: "We are thrilled to partner with Suffolk University and to amplify the University's reach worldwide. We share common values and a belief in the importance of a globally diverse student community. The range of programs, the wonderful location in the center of Boston and, most of all, the commitment of faculty and leadership at Suffolk to delivering a wonderful experience and a great education augur well for the future of this partnership and the continued success of the University."
Since 2006, INTO has successfully launched partnerships with 23 universities around the world, enrolling more than 14,000 students from 150 countries each year. INTO Suffolk, LLC, marks INTO's 10th partnership in the U.S. and its first in New England. Other universities that have partnered with INTO include George Mason, Oregon State, Washington State, Colorado State University and Saint Louis University. Those institutions have seen greater internationalization of their campuses. Students who have progressed from a Pathway program into a degree program have been able to cope with the demands of American university study and, in many cases, are academically outperforming international students who were directly admitted to those universities.
"In this time of continued dynamic globalization, we owe students expansive opportunities for multi-faceted exposure to international perspectives," said Suffolk Board Chair Robert C. Lamb. "Our partnership with INTO establishes a long-term sustainable means of providing an education that prepares students for success in whatever dimension of the global marketplace they may encounter in their careers."
Pathway courses will be taught by Suffolk faculty and assessed by Suffolk standards. Students must meet or exceed the University's admission requirements before they are admitted to University degree programs. By completing a Pathway program, they demonstrate their ability to perform in these programs. The partnership leaves all academic aspects of the initiative under the University's direct control, including admissions requirements, curriculum design and student assessment.
The Pathway programs include:

Academic English: A rigorous program that strengthens English language and communication skills, preparing international students for university-level study and degree programs
Undergraduate Pathway: A program designed to continue international students' development of English skills through intensive language study as they complete first-year course work that will count toward completion of a four-year bachelor's degree
Graduate Pathway: A pre-master's program combining intensive English language study and graduate academic skill development with credit-bearing courses that directly lead to selected graduate degree programs
INTO Suffolk will begin its recruiting process this fall, and the first students will be on campus in the spring of 2018.
Suffolk, which was founded in 1906 on the idea that immigrants arriving in America should have access to the same academic opportunity that was at the time reserved for the wealthy few, has a proud history of embracing innovation in international education. Suffolk opened an international campus in Madrid in 1995. This fall, the Madrid campus will offer for the first-time four year degrees in international relations.
-----
Suffolk University, located in historic downtown Boston, with an international campus in Madrid, is a student-centered institution distinguished by excellence in education and scholarship. Suffolk University offers a wide range of undergraduate and graduate programs in more than 90 areas of study. Its mission is to empower graduates to be successful locally, regionally and globally.