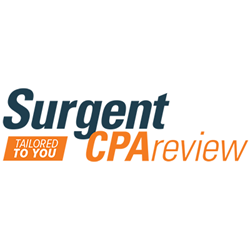 Devon, PA (PRWEB) August 01, 2017
Liz Kolar, CPA, CGMA, CPA Review educator and co-founder of Surgent CPA Review, and Paul Wiese, Senior Director of Business Development for Surgent CPA Review, have been selected to help educate future Certified Public Accountants (CPAs) at the Annual Meeting of the Beta Alpha Psi International Honor Organization for Financial Information Students and Professionals. This year's meeting opens on August 3 in Anaheim, CA.
The meeting theme is "The Best is Yet to Be," and Surgent CPA Review's expert speakers have crafted targeted educational presentations to help students achieve their best. The theme embodies Beta Alpha Psi's mission to foster scholastic and professional excellence, and to provide opportunities for growth and leadership development.
"This mission aligns perfectly with what the Surgent CPA Review team wants for students," said Kolar. "We want them to achieve their dream of becoming a CPA while making the process as efficient and engaging as possible."
Kolar's presentation, entitled "How to Solve the New CPA Exam Question Types," will provide students with an inside look at the varied questions types that appear on the 2017 CPA Exam and how to solve them quickly and easily. Wiese's presentation, entitled "Leading From Any Seat – What the Textbooks Can't Teach You," is an interactive presentation that aims to help students hone skills that will assist them during the transition to leadership in a corporate setting.
Additionally, students are encouraged to visit the Surgent CPA Review exhibitor booth while attending the meeting. At the booth, students will have the opportunity to meet the Surgent CPA Review team, play games to win prizes, and learn more about why Surgent CPA Review is the best choice to help CPA candidates pass the CPA Exam.
Aspiring CPAs interested in Surgent CPA Review may enroll in a free 5-day trial course by visiting: https://www.surgentcpareview.com/pricing/free-trial
About Surgent CPA Review
Surgent's CPA Review course is a comprehensive CPA Exam prep program that provides CPA prep for all four parts of the CPA Exam through a unique, hyper-personalized learning experience. Its unique A.S.A.P. Technology™, whose acronym stands for Adaptive Study and Accelerated Performance, is an advanced adaptive learning system that provides CPA candidates with a revolutionary, guided study experience that greatly reduces the amount of study time needed to pass the CPA Exam. By combining revolutionary programming and best practices in learning theory and design, A.S.A.P. Technology continually serves customized study plans to each student throughout the course of their CPA Exam preparation based on their unique and evolving knowledge gaps and strengths.