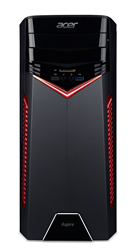 We've broadened our Aspire GX-281 Series to accommodate a more diverse group of gamers and digital enthusiasts.
SAN JOSE (July 25, 2017) (PRWEB) July 25, 2017
Editor's Summary

New Acer Aspire GX-281 series desktops offer AMD Ryzen™ 5 1400, 5 1600 or 7 1700X processors and up to NVIDIA® GeForce® GTX 1070 graphics to fuel entry to mid-level gaming, photo and video editing as well movie viewing, including 3D titles
A convenient front access USB Type-C™ port and two rear SuperSpeed USB 10 Gbps ports enable quick data transfers and downloads
Powerful enough for 4K monitors, while select models can support up to four displays for immersive, wrap-around gameplay and excellent multitasking capabilities
Edgy armor-inspired design with red LED lighting
Acer America has rounded out its Acer Aspire GX-281 gaming desktop series with powerful new models. Outfitted with an AMD Ryzen™ 5 or Ryzen™ 7 processor, the new desktops deliver robust performance and quick responsiveness for gaming, movies including 3D titles and other graphic-intensive applications, such as video editing.
"We've broadened our Aspire GX-281 Series to accommodate a more diverse group of gamers and digital enthusiasts," said Frank Chang, Acer America senior director – stationary products. "As the gaming market continues to grow and evolve, Acer is pleased to offer a broader desktop selection leveraging a variety of processing, graphics and storage configurations, so customers can choose the system that best meets their needs."
The new Acer Aspire GX-281 desktops offer up to an AMD Ryzen™ 7 1700X (eight-core) processor 3.4GHz to deliver a max speed of 3.8GHz with Precision Boost and enough power for matching with a 4K monitor for incredibly vibrant visuals. Select models can support up to four monitors to dramatically expand the viewing area for deeply immersive gameplay and the ultimate in multitasking. Providing up to NVIDIA® GeForce ® GTX 1070 graphics or AMD Radeon™ RX 480 graphics and up to 16GB DDR4 memory (upgradable to 64GB DDR4), the Acer Aspire GX-281 series desktops can handle a wide variety of the latest game titles with some models offering enough power for virtual reality apps.
Aggressive aesthetics feature an armor-shaped black chassis with red arrow-like design features and front LED lights that emit a red glow. With models offering up to a 2TB hard drive(1) and 256GB SSD(1), this series has ample room for archiving files and media. In addition, an optical drive provides superb storage backup as well as music and movie playback. The systems also support high-definition audio with 5.1 channel surround sound support.
Convenient Connectivity
A handy front access USB Type-C™ port and USB 3.1 port as well as two rear SuperSpeed USB 10 Gbps ports deliver quick data transfers and downloads. The Acer Aspire GX-281 series also provides four USB 2.0 ports for leveraging peripherals and other digital devices, while HDMI and up to three DisplayPort connections, depending on model, support the latest monitors.
Outfitted with an SD™ Card reader, customers can use the system to copy videos, photos and more from a vast assortment of cameras and digital devices. Also included are Bluetooth® 4.0 LE for leveraging wireless headsets, game sticks, mice and keyboards and 802.11 ac WiFi (2) for a fast Internet connection.
Pricing and Availability
The Acer Aspire GX-281 series gaming desktops ship with a Windows® 10 Home, a USB keyboard and mouse and are available at leading retailers beginning this month with manufacturer's suggested retail prices starting at $799 MSRP. They're backed by high-quality 24/7 technical support and a limited one-year parts and labor warranty.(3)
About Acer
Founded in 1976, today Acer is one of the world's top ICT companies and has a presence in over 160 countries. As Acer looks into the future, it is focused on enabling a world where hardware, software and services will infuse with one another to open up new possibilities for consumers and businesses alike. From service-oriented technologies to the Internet of Things to gaming and virtual reality, Acer's 7,000+ employees are dedicated to the research, design, marketing, sale, and support of products and solutions that break barriers between people and technology. Please visit http://www.acer.com for more information.
Media Contacts
PanAm – Erin Davern Tel: +1-949-471-7785 Email: erin.davern(at)acer.com
© 2017 Acer America Corp. All rights reserved. Acer and the Acer logo are registered trademarks of Acer Inc. Other trademarks, registered trademarks, and/or service marks, indicated or otherwise, are the property of their respective owners. All offers subject to change without notice or obligation and may not be available through all sales channels. Prices listed are manufacturer suggested retail prices and may vary by location. Applicable sales tax extra.
1) Accessible capacity varies; MB = 1 million bytes; GB = 1 billion bytes
2) Based on IEEE 802.11ac draft specifications. Actual speed will vary depending on network conditions and environmental factors, including volume of network traffic and density of surrounding structures like walls. An 802.11ac wireless equipped PC requires an 802.11ac router to work properly.
3) Limited warranty agreement applies. For a copy, write to Acer Customer Service, P.O. Box 6137, Temple, TX 76503.