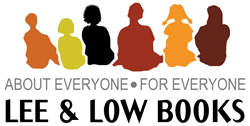 We are a publisher that takes pride in nurturing new talent.
New York, NY (PRWEB) August 01, 2017
While the number of children's books with multicultural content has increased significantly over the last three years, authors of color are still woefully underrepresented in the traditional publishing industry. According to statistics gathered by the Cooperative Children's Book Center at the University of Wisconsin-Madison, just six percent of children's books published in 2016 were written by African American, Latinx, or Native American authors combined. In contrast, these groups make up over 32% of the current US population, according to recent census figures.
Two annual writing contests run by publisher LEE & LOW BOOKS address this gap by helping aspiring authors of color break into the traditional publishing industry. The New Voices Award, for picture book manuscripts, and the New Visions Award, for middle grade and young adult manuscripts, each awards a $1000 cash prize and a first-time publishing contract annually to an unpublished author of color.
Now in its eighteenth year, the New Voices Award has led to the publication of award-winning picture books like Bird by Zetta Elliott, Sixteen Years in Sixteen Seconds by Paula Yoo, and It Jes' Happened by Don Tate. The 2016 Award was given to author Roberto Peñas for his manuscript "Pedro Flores: The Toymaker," about the Filipino inventor of the modern yo-yo.
In 2000, LEE & LOW established the New Visions Award, which focuses on manuscripts for older readers. LEE & LOW recently partnered with nonprofits First Book and the NEA Foundation to expand its New Visions Award to two annual winners. A special edition paperback edition of one of the winners will also be made available exclusively on the First Book Marketplace for schools and programs serving children in need.
"We are a publisher that takes pride in nurturing new talent," said Jason Low, Publisher of LEE & LOW BOOKS. Established in 1991, the independent publishing company has always focused exclusively on diverse children's books and taken an activist stance toward addressing publishing's representation problems. LEE & LOW BOOKS was also responsible for the Diversity Baseline Survey, a landmark study examining diversity among publishing industry professionals.
The deadline for the New Voices Award is September 30, 2017 and the deadline for the New Visions Award is October 31, 2017. Writers interested in submitting can find full guidelines for both awards on the LEE & LOW website: https://www.leeandlow.com/writing-contests
ABOUT LEE & LOW BOOKS: Established in 1991, LEE & LOW BOOKS is the largest children's book publisher in the United States specializing in diversity. Under several imprints, the company provides a comprehensive range of notable diverse books for beginning readers through young adults. Visit https://www.leeandlow.com/ to learn more.