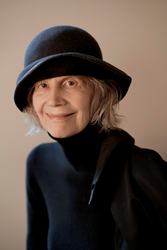 "JoAnne is well-deserving of this prestigious honor and the accolades for a distinguished and impressive career," said Bonnie Barrett, director, Yamaha Artist Services New York.
Washington, DC (PRWEB) July 25, 2017
The National Endowment for the Arts has selected JoAnne Brackeen as a winner of its distinguished Jazz Masters Award for 2018.
The NEA Award will be presented at 8 p.m. ET on Monday, April 18, 2018, at the Kennedy Center's Concert Hall in Washington, D.C. Her fellow honorees, guitarist/composer/educator Pat Metheny, vocalist Dianne Reeves and club owner/producer/artistic programmer Todd Barkan, will join her at the ceremony, which will be streamed live and open to the public.
"It's awesome to have received this honor, this title for being and doing what I love most," Brackeen said. "I am so thankful. My goal is to continue and share my joy, concepts and spirit through my music with as many people as possible."
"The NEA Jazz Masters represent the very pinnacle of talent, creativity, innovation and vision," said NEA Chairman Jane Chu. "We look forward to celebrating these four new Jazz Masters and their many contributions to jazz."
"JoAnne Brackeen is a role model both as a consummate jazz performer and devoted educator," said Bonnie Barrett, director, Yamaha Artist Services New York. "For many years, her consummate musicianship has inspired countless aspiring musicians, as well as imaginative collaborations with many of today's greatest jazz players. JoAnne is well-deserving of this prestigious honor and the accolades for a distinguished and impressive career."
 
Brackeen, a Yamaha Artist, is one of America's outstanding jazz pianists, composers and educators. She has achieved many milestones in a career that stretches back to the 1950s, beginning with her history-making run as the only female musician ever to play with Art Blakey's Jazz Messengers. Referencing Brackeen's more than 300 often adventurous, multi-genre compositions, jazz icon Marian McPartland noted that "Brackeen, like Picasso, broke convention and she always likely will."
In addition to dozens of albums released under her own name, Brackeen has collaborated on projects with bassists Eddie Gomez and Charlie Hayden, saxophonists Dexter Gordon, Joe Henderson, Dave Liebman and Charles Lloyd, trumpeters Terence Blanchard, Art Farmer, Bill Hardman and Freddie Hubbard, and drummers Jack DeJohnette, Billy Hart and Roy Haynes.
Among her previous distinctions are the Berklee Award for Outstanding Achievement in Education, the Berklee Distinguished Faculty Award, the IAJE's Outstanding Educator Award, the IJW (International Women In Jazz) Living Legend Award and the BNY Mellon Jazz 2014 Living Legacy Award.
Later this year, Brackeen will appear with bassist Ugonna Okegwo and drummer Nate Smith on July 24 at Bushnell Park in Hartford, Conn.; their performance will broadcast live over WWUH radio. She will deliver a solo piano set on Aug. 5 at the Newport Jazz Festival and return to trio format with Okegwo and drummer Rudy Royston on Sept. 16 at the Monterey Jazz Festival.
More tours are on the books for 2018, to mark and celebrate Brackeen's 80th birthday.
For more information about Joanne Brackeen, please visit http://www.joannebrackeenjazz.com. For more information about Yamaha Artist Services New York, please visit http://www.yamaha.com/yasi.
-END-
About Yamaha Artist Services New York, Inc.
Established in 1987 in New York City, Yamaha Artist Services, Inc. (YASI) provides a wide range of professional services exclusively for performing artists, concert venues, performing arts organizations and educational institutions, representing an unparalleled commitment to the music industry and an invaluable resource for musicians, presenters and educators worldwide.
Since 2005, Yamaha Artist Services New York has been in the heart of midtown Manhattan on Fifth Avenue and 54th Street, in an historical landmarked 1925 building which originally served as Aeolian Hall, the headquarters of the Aeolian Piano Company. Designed by Warren & Wetmore, the architects of other notable buildings in New York City (Grand Central Terminal, the former Steinway Hall on 57th St.,) the building later became the headquarters for Elizabeth Arden. Occupying over 4,000 square feet, the Yamaha Artist Services Piano Salon features an elegant performance venue seating up to 90 and houses a large selection of concert-ready Premium Pianos of various sizes, including the acclaimed Yamaha CF series (CFX, CF6, CF4,), Bösendorfer, and Disklavier instruments, as well as the innovative AvantGrand hybrid and TransAcoustic pianos. Led by Yamaha's Chief Concert Technician, Yamaha Artist Services also provides outstanding technical support for concert venues and artists throughout the United States.
 
The Piano Salon is a state-of-the art, acoustically and technically adaptable environment. It features a wide-screen projection system with custom NEXO stereo sound, remote control cameras and a Newtek Tricaster system for video capture and live broadcast, and a 128 channel Dante-equipped Nuage recording and mixing console for professional audio recording and post production. The Piano Salon also features Yamaha's Active Field Control system (AFC), which uses sound processing technology to optimize room acoustics to suit the desired size of a performance, and can recreate authentic acoustic simulations of other performing arts venues.
It is a versatile space hosting instrument selections for artists, concert venues and educational institutions; rehearsals, recitals, auditions, masterclasses, press receptions, lectures and film screenings. The Piano Salon has been at the forefront of showcasing Yamaha's groundbreaking RemoteLive and Remote Lesson technologies, a groundbreaking and innovative way of delivering a live performance or pedagogical experience by linking two or more Disklavier pianos together, anywhere in the world, in perfect synchronization with video streaming.
Yamaha Artist Services New York works in close collaboration with other Yamaha Artist Service centers throughout the world, including those located in Japan, China, Russia and Europe, ensuring the seamless and unwavering support of Yamaha Artists internationally, wherever they are performing.