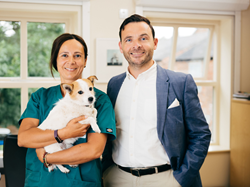 When it comes to palliative care, the focus is rightly on the pet patient, but it is equally about treating a family too; families and individuals are often struggling to cope with the turbulent emotions grief brings
(PRWEB) August 01, 2017
Already offered by many pet insurers, palliative care policy benefits can be buried in the small print, yet could help retain policyholders by delivering a sensitive customer journey at the worst of times.
YouGov research commissioned by Aquarium shows 69 percent of owners see their pet as important to the family as the human members, and with US data suggesting pet insurance is an emotional purchase rather than a rational one, palliative care cover is a way for insurers to tap into this emotional connection. Doing so gives insurers the best chance of policy resurrection when the potential new pet comes into the pet parent's life.
"Palliative care is covered by many policy providers, with firms springing up to service this emerging new market," said Aquarium Director, Mark Colonnese. "Ensuring pets do not suffer if treatment has to switch from curative to palliative tugs on the emotional heart strings and insurers who understand this will reap the rewards when a beloved pet reaches the end of life and receives sympathetic and empathetic care."
Dr Anita Bhanja B.Vet. Med. GPCert (Derm) MRCVS, founder of http://www.eternalpaws.co.uk , who recently attended the Aquarium offices to support 'Bring Your Dog To Work Day 2017', is pioneering the delivery of palliative pet care, which often results in the family 'being treated'. "When it comes to palliative care, the focus is rightly on the pet patient, but it is equally about treating a family too; families and individuals are often struggling to cope with the turbulent emotions grief brings," said Dr Anita. "In my own practice, this is very much the case as grief is really the same, whether it be the loss of a human or an animal. It is important to discuss the difficult decisions as openly as possible, or the process ultimately becomes even more difficult. So, I truly believe in the enormous value of palliative and hospice care for pets - in helping not only the patient, but the family too," Anita concluded.
"End of life decisions, human or animal, are never easy and always emotional but we think there is a real role for palliative care of pets," added Colonnese. "63 per cent would mourn a pet loss as deeply as a family member, yet over half the UK population don't have pet insurance. With palliative pet cover, insurers are improving quality of life for pet and parents and making the difficult and costly end of life decisions easier. No one wants to put their pet to sleep because they can't afford longer-term care. More insurers need to offer such cover and from a commercial and technological standpoint, the marketing of policies from a more emotional perspective is more likely to resonate with owners," Mark added.
Aquarium Software is currently being implemented by a number of key pet insurers, and affinity partners in the UK, Europe, USA and Canada. For further information contact Aquarium Software on +44 (0)161 927 5620 or visit http://www.aquarium-software.com