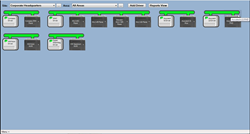 Intelli-Site-Lite gives even the simplest installations a powerful software platform that can scale to a fully integrated enterprise level solution
Franklin, WI (PRWEB) August 23, 2017
OSSI announces the release of Intelli-Site-Lite an introductory solution designed exclusively for electronic access control (EAC) based on the Intelli-Site Security Engine. Intelli-Site-Lite users pay only for access control functionality, but as needs grow, can easily scale up to the full version - integrating multiple building systems to deliver one control and alerting center.
Led by security industry pioneer, Joel Konicek, Bridgestone Capital acquired a majority stake in OSSI in 2016. Mr. Konicek was the founder of Northern Computers in the mid 1980's (purchased by Honeywell). Prior to starting Bridgestone Capital in 2011, he served as Chief Executive Officer of Security Holding Corporation. In 1998, he published Security, ID systems and Locks, the Book on Electronic Access Control. Northern Computers fundamentally changed the security market by introducing inexpensive software that ran on a Windows PC and expandable systems that were sold exclusively through both dealers and distribution. With the introduction of Intelli-Site-Lite, OSSI continues this strategy by offering the first truly integrated software platform (unlimited cards, unlimited doors) priced competitively starting at two doors. It is sold through dealers and distributors and built on outstanding support of their resale network and end users.
Intelli-Site-Lite is designed to be intuitive and scalable. It provides many different views which allow the operator to know system status and health graphically in seconds. Pop-up screens for each panel allow the operator to enable, disable, and activate any point in the system. Legends on each hardware control screen provide the operator easy reference explaining device statuses. The system works with compass and mac boards (plug-ins are available for others) and is scalable in blocks of 25 additional readers to minimize cost to the end user when adding capacity. Kits are available starting with as few as two doors.
Intelli-Site-Lite gives even the simplest installations a powerful software platform that can scale to an enterprise-level solution capable of integrating Programmable Logic Controllers as well as devices from nearly all Electronic Access Control manufacturers. OSSI offers more integration platform capabilities than all other competitors combined. Start with 2 doors, and continually add to your solution as you need. Even if you grow into a fully integrated solution that includes intercom, CCTV, alarms, and more, with thousands of doors at hundreds of locations—Intelli-Site will continue to grow with you, offering end to end support all along the way.
"We have a simple approach to customer service - when you purchase an OSSI system we never want you to leave our family for any reason. We meet with end users, find new business opportunities, help them design, build, and release complete design specs. We do free onsite training, telephone troubleshooting, and web training all at no charge. We provide quoting tools for dealers, programming assistance, and just about any kind of support the dealer/end user needs." - Jim Vinson VP of Sales
Intelli-Site-Lite is the first platform to offer enterprise-level integration options, interface and reporting in an entry level system. Additional features and upgrading to the full Intelli-Site Security Engine solution are unlocked through remote licensing codes rather than software migration. The open architecture is designed for plug-in drivers that enable integrations of the technology end users already have. OSSI's extensive library of existing plugins and the ability to custom build additional integrations as needed make it not only the most user-friendly, but also the most cost-effective access control software on the market.
The Hardware Management View gives end users a graphical representation of the systems health along with helpful configuration notifications. The Activity View displays all live activity streams at once, and streams can be filtered by system, location or even to the panel itself. Intelli-Site-Lite also comes with built-in reports for quick reference to card records, departments, cardholder activity, card changes, and system information as well as a web client for access by smartphone, tablet or other device. It also allows you to manage user access control through Microsoft Active Directory rather than input details about users and buildings manually. With the built-in redundancy of peer-to-peer networking, devices are still able to communicate with each other if they lose connection to the central computer.
The Intelli-Site platform is unique in offering access control and industrial control integration in a unified graphical user interface. The software directly interfaces with CCTV/DVR, Intercom, Perimeter, Fire, PLC, Nurse Call, Infant protection/wander management and much more. More drivers for more integrations is what makes OSSI the most flexible, user-friendly system in the industry.
The security industry moves quickly, and OSSI puts you on the leading edge. All Intelli-Site-Lite software come with a Software Maintenance Agreement (SMA). The SMA helps users stay ahead of trends – and threats. It includes unlimited software updates, priority phone support and software transfer (in case of a computer crash). Intelli-Site-Lite offers users state of the art access control functionality, competitively priced for as few as two doors, that can scale to over sixteen thousand doors as well as integrate multiple building systems to deliver sophisticated enterprise level security.