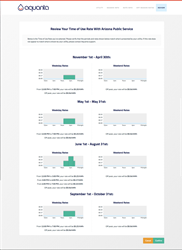 If you are a home or small business owner with an electric water heater on a TOU rate plan, the saving opportunity is tremendous.
McLean, VA (PRWEB) July 26, 2017
Aquanta has just made its market-leading, retrofittable water heater controller that much better with the release of a Time of Use Scheduler feature. It is designed for homeowners and small businesses on utility Time of Use rates, automatically controlling their water heater to avoid heating during the most expensive price periods and save them money while assuring hot water availability.
Aquanta has pre-loaded 16 of the most popular TOU programs from across the country so that participating customers can easily select their program and begin saving money right away. The TOU Scheduler feature works on all Aquanta models, but is intended primarily for electric storage water heaters as they draw large amounts of electricity from the utilities.
"Water heaters are ideally suited for optimization to TOU rate programs, given their inherent storage capacity and heat timing flexibility," asserted Matt Carlson, CEO of Aquanta Inc. "If you are a home or small business owner with an electric water heater on a TOU rate plan, the saving opportunity is tremendous."
Savings examples based on data from actual Aquanta customers include:

Typical users enrolled in Arizona Public Service's Time Advantage rate program would save an estimated $66 a year;
Average customers in Hawaiian Electric's Time of Use pilot can save $128 annually; and
Southern California Edison's TOU-D Option A participants can save an estimated $151 a year.
"Time of Use, or Variable Pricing, plans are becoming increasingly widespread, including mandated participation in California for all homeowners and small businesses starting in 2019. Automated control of large energy consuming appliances, like the water heater, will be a key enabler to the success of these programs and Aquanta expects to play a significant role here," stated Carlson.
The utility retail pricing landscape is very dynamic, so not all utility pricing programs and pilots are currently pre-loaded in Aquanta's TOU feature. If not currently pre-loaded, users can create and add their own program to the Scheduler. Interested customers are invited to go to Aquanta's Inc.'s twitter feed @AquantaInc for a listing and updates of utility programs pre-loaded into the TOU Scheduler feature.
About Aquanta Inc.
McLean, VA-based Aquanta Inc. (formerly Sunnovations Inc.) develops innovative products and technologies that address climate change and enhance energy efficiency, with specific focus on the energy usage, inefficiencies and grid integration opportunities inherent in our water heating and plumbing systems. For more information on Aquanta, please visit http://www.aquanta.io.