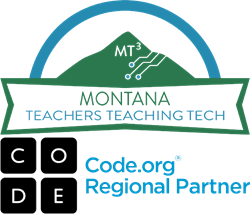 Missoula, MT (PRWEB) July 26, 2017
America Campaign's Montana Teachers Teaching Tech program, in partnership with Code.org, trained 38 middle and high school educators in Phoenix, AZ last week. This unique training program will bring computer science to schools throughout Montana, North Dakota and South Dakota in the upcoming 2017 - 2018 academic year.
Teachers from every corner of Montana and beyond, representing both rural and urban school districts were accepted earlier this year into a first ever training program with Code.org. With a variety of teachers attending, some school districts had teachers from both middle and high school levels that went through the training, earning them the benefit of a larger K-12 pipeline of computer science opportunities.
"Ultimately, we want our students to be critical thinkers and problem solvers so that they can fully participate in an ever-changing society. The Code.org curriculum teaches these skills in the context of something students see and use everyday (computers) while also preparing them for life outside the classroom. It also completely busts the myth that computer science is for boys only. Students of all backgrounds will discover a previously hidden passion for designing websites, creating animations, making games, and solving tomorrow's problems today," said Steve Quenell from Kalispell, a participant and a newly trained Code.org regional facilitator.
Kayla Fouts, an educator from Turner, Montana who teaches in a high school of less than 20 students, said "I am very excited to have this opportunity to offer such a great course at my school. It will ultimately be the first of its kind at Turner Public Schools. In a small school it is very important to get students excited about technology and understand that technology plays a key role in their present and future. Regardless of if they wish to pursue a technical career, a knowledge of computer science will allow students to grow and advance in many careers.."
"Computer Science should be looked at as a fundamental literacy necessary for future student success." said America Campaign's Director of K-12 Programs Lander Bachert, "These educators are taking the initiative to make sure the 21st century needs of their students are met, and should be commended for their hard work, dedication and educational tenacity."
Schools districts from Fromberg, Billings and Kila also had teachers participating from both their middle and high schools.
"I'm excited to offer a Computer Science class at the middle school level this upcoming year. More and more industries are moving towards or already using more technology. Whether they are thinking about a technical career or not, students need a basic understanding of how computers function and how they can use CS to design and create," Colstrip Educator Don Ashbury said. "We want to get our students started at an earlier age and to provide them with an excellent opportunity for them to advance in the future."
"Our Montana Teachers Teaching Tech program was created in the summer of 2016 in response to a lack of K-12 Computer Science educator training in Montana. As the official Regional Partner for Montana, we are proud that in less than a year we have trained over 60 elementary, middle and high school teachers in Computer Science." said Founder and CEO, Devin B. Holmes. "As we expand our Big Sky Code Academy, Montana Teachers Teaching Tech and Montana Code Kids programs into North Dakota, South Dakota and Wyoming, we are proud to be bringing these #MadeinMontana innovative computer science training programs to our neighboring states."
The program started July 16th with a five-day conference in Phoenix followed by online self-paced resources, four weekend workshops during the academic year, and in-state computer science community building.
Below is a list of the school districts with one or more teachers participating in either the Computer Science Discoveries or Computer Science Principles Professional Learning Program:

Twin Bridges
Billings
Colstrip
Fort Benton
Havre
Livingston
Kalispell
Kila
Huntley Project
Spearfish, South Dakota
Circle of Nations, North Dakota
Bozeman
Bainville
Stevensville
Malta
Turner
Sheridan, WY
Round Up
Richey
Fairfield
Plevna
South Falls, SD
West Yellowstone
Missoula
Fromberg
Rapelje
Cut Bank
Great Falls
About the America Campaign & Montana Teachers Teaching Tech
Montana Teachers Teaching Tech is an initiative of the America Campaign, a national non-profit founded in 2009 by serial entrepreneur and philanthropist, Devin B. Holmes, working to improve the lives of all Americans through technology, education and the arts. Along with its Montana Code Girls/Kids, Big Sky Code Academy and Code4Philanthropy initiatives, the America Campaign is focused on developing innovative technology focused solutions that create positive impact. Mr. Holmes is also the Founder of the recently launched Montana Innovation Co, a $2.4M seed fund and 6 month start up accelerator for high growth / high impact companies in Montana. America Campaign is also an official Code.org Regional Partner proud to be furthering the goal of K-12 computer science for every student, in every school, in Montana, Wyoming, North Dakota and South Dakota.
About the Code.org Professional Learning Program
The Code.org Professional Learning Program is a year long training that is free for middle school and high school teachers. The high quality program starts with a full week in the summer, followed by quarterly workshops during the academic year to support teachers as they implement their curriculum and build a community of support amongst the computer science teachers in Iowa. The program is geared toward all levels of experience including teachers that have never taught computer science before.